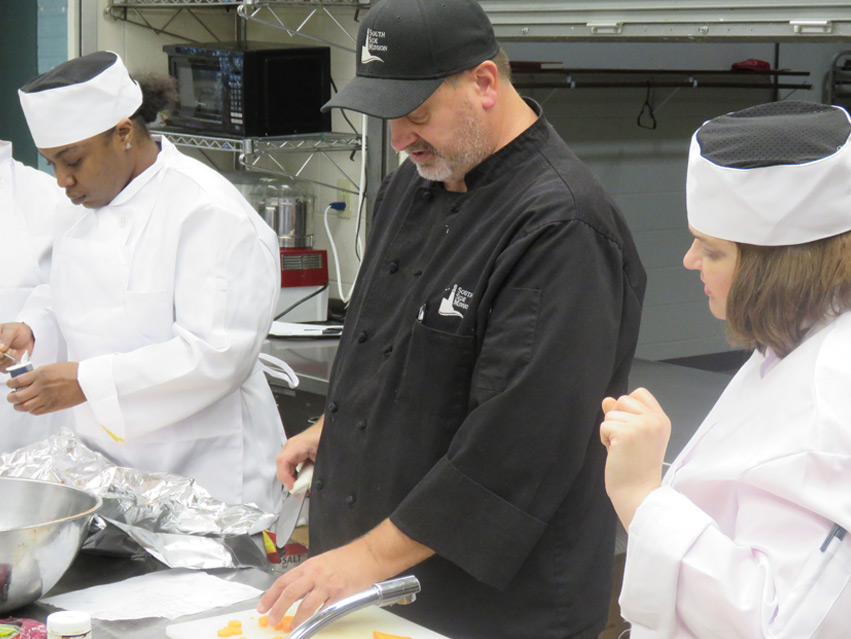 Chef Chris Franzoni with students in the kitchen at the South Side Mission Culinary Arts Training School
How does a culinary arts class located in Peoria's south side provide hope to the community? Residents of the 61605 zip code are among the most disenfranchised statistically—not only in Illinois, but in the entire United States. It is often hard for them to find affordable job training that gives them the skills needed to provide for themselves or their families. Those in search of something better can find such job training through the Culinary Arts Training School at South Side Mission.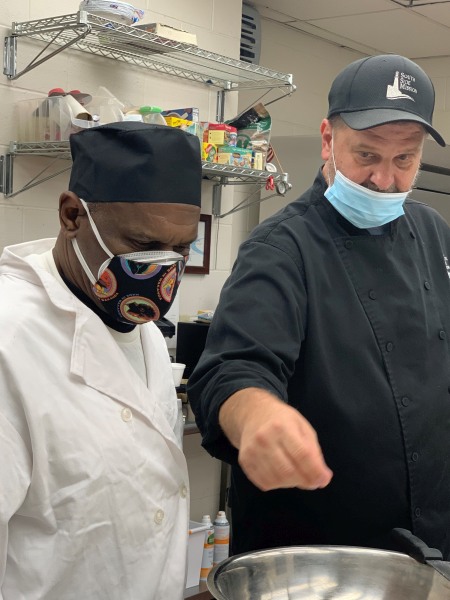 Trained By a Professional
Since its founding in 1925, South Side Mission has focused on helping people make positive changes in their lives. This is done through its youth ministry, mentoring and tutoring programs, summer camping ministry, soup kitchen and thrift stores. In 2006, South Side Mission saw a growing need on the south side to help people build translatable job skills and wanted to make a difference. Leadership sought to start a culinary program, but needed someone with experience as a chef and knowledge of the field. 
Enter Chef Chris Franzoni, a veteran of hotel kitchens in Chicago and locally, who found his calling and a purpose. South Side Mission has now had 41 classes graduate since that first year, and Chef Chris continues to teach, year after year. "I love to see someone else catch the excitement for cooking," he says on why he keeps coming back. "To see someone turn themselves around and create a better life for themselves, it's powerful." 
During the class, students learn the basics of food preparation, but also work on presentation and variety. When the Mission has a public event or opportunity, Chef Chris and his students work out the menus, meal preparation and serving as well. Most of the students are typically in the 25-45 age range, but the one thing they all have in common is the desire to start something different—something better for themselves. 
"I used to hate cooking," explains one current student. "I started making recipes for myself, of things I liked, and I caught the fever for it. Now it's a hobby I enjoy doing." When asked why he wanted to participate in the course, the student answered, "I was excited for the chance to be trained by a professional." 
A Brighter Future
At the end of the course, there is a formal graduation ceremony and each student gets a diploma. Now the students are equipped with the knowledge and skills to obtain a job. Graduates of the South Side Mission Culinary Arts Training School can be found all over the Peoria area and beyond. They have gone on to become chefs at local restaurants, lead culinary operations at nursing homes, and even open and operate their own restaurants! 
This program is proof that South Side Mission is true to its mission statement: "to proclaim Jesus Christ, and in His name love our neighbors and provide hope to the community through life-transforming ministries." It is clear that the Culinary Arts Training School is more than a class. Chef Chris cares about his students and wants to see them succeed. He does his best to stay in touch with former students and goes out of his way to continue to support them and their careers. 
South Side Mission offers three 12-week classes each year in the spring, fall and winter. While the fall session is already underway, the next class will begin in early December. For more information about enrolling, contact South Side Mission at (309) 676-4604. PM