Each summer, Peoria Magazines presents the 40 Leaders Alumnus of the Year Award to a previous award winner who has continued to make an impact on the Greater Peoria community. For her longtime community leadership, we are proud to name Carol Merna the 2020 40 Leaders Alumnus of the Year!
2020 Alumnus of the Year: Carol Merna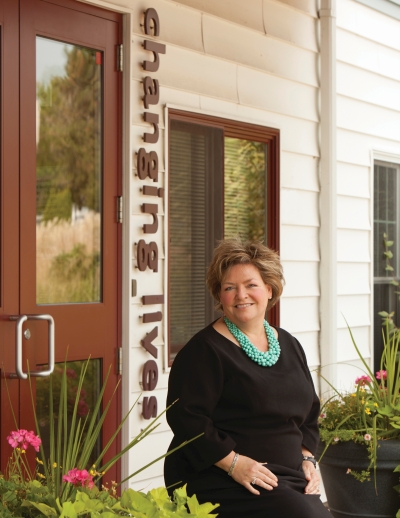 From sports to 4-H to student government, Carol Merna has been involved in leadership and community service since she was a child. At the age of 16, the Oklahoma native landed her first internship, for a member of the U.S. House of Representatives. In 1989, Ray LaHood, then chief of staff to former Congressman Bob Michel, hired her for the congressman's district office. She went on to serve the 18th Congressional District for more than 25 years, working in and overseeing constituent and community service operations for three members of Congress.
She began her role as chief executive officer for the Center for Prevention of Abuse in 2015, guiding its mission to help all people live peaceful lives, free from violence and abuse. Among Merna's accomplishments, she led the organization through the State of Illinois' longest budget impasse while increasing its fundraising revenue, strengthened CFPA's relationships with elected officials and policymakers, and created a new department to serve victims of human trafficking.
Throughout 2020, she has guided the organization through the COVID-19 pandemic, a crisis which has found many victims of abuse and domestic violence quarantined with their abusers. Under Merna's direction, CFPA has explored new ways to address community and client needs, while ensuring its professional staff remains readily available to assist anyone who is in danger or in need of safe shelter or crisis intervention.
Previous recipients of the 40 Leaders Alumnus of the Year Award include:

2019 Alumnus of the Year: Steve Thompson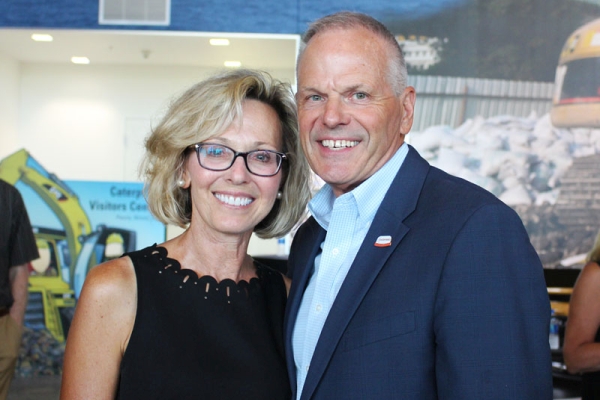 A member of the first class of 40 Leaders Under Forty in 1994, Steve Thompson continues to work tirelessly to make central Illinois a better place. Since his days coaching wheelchair sports at the University of Illinois, he has made it his personal mission to help others—especially those with disabilities or who don't have the resources many of us take for granted.
Under Thompson's leadership as president and CEO, Easterseals Central Illinois has dramatically expanded its line of services and service area. He's led successful capital campaigns and overseen the number-one Easter Seals telethon in the country, raising more dollars per household than any other telethon market. He led the creation of the Autism Early Diagnostic Clinic in 2003, and has continued to expand autism services through the Easterseals Learning Academy in Germantown Hills.
In 2019, Thompson is leading the centennial celebration of Easterseals—celebrating 100 years of providing exceptional services to children with disabilities, developmental delays and other special needs, as well as their families. He has received multiple honors and awards for nonprofit leadership and has served on a range of boards, councils and commissions. He is also an ordained lay minister at Northfield Christian Fellowship in Tremont.
A devoted husband and father, he and his wife Morene are the proud parents of 18 children—14 of which are adopted. At last count, they have 22 grandchildren. Peoria Magazines is proud to name Steve Thompson as the 2019 40 Leaders Under Forty Alumnus of the Year.

2018 Alumnus of the Year: Henry Vicary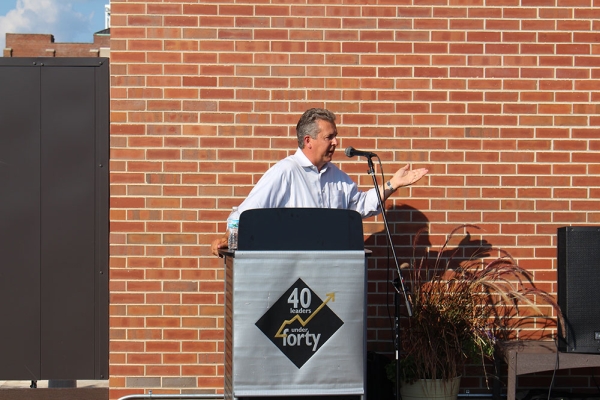 Born and raised in Peoria, Henry Vicary is a second-generation Caterpillar employee who strives tirelessly to better his community. Since being named a 40 Leader Under Forty in 1997, he has risen up the ranks at Caterpillar Inc. to become guest and community relations director—responsible for fostering critical relationships and representing the company in strategic initiatives throughout Greater Peoria.
A graduate of Bradley University and Drake University Law School, Vicary joined Caterpillar in 2002, serving in a variety of management and corporate legal counsel positions over the next decade. He was named Caterpillar's corporate community relations manager in 2014, working closely with the executive office on strategies ranging from economic development to local and regional governmental issues. The following year, he became guest and community relations director, overseeing Caterpillar's Corporate Community Relations Division as well as the Caterpillar Visitors Center, Corporate Customer Services and Corporate Archives.
Through his employer and in his personal endeavors, Vicary dedicates much of his time to local economic development efforts, serving in leadership positions with the Greater Peoria Economic Development Council, Downtown Development Corporation, Peoria Area Chamber of Commerce and CEO Council.
He has previously served on the boards of the Business PAC of Central Illinois, Heartland Development Corporation and Morton Public Library, and has supported the Children's Miracle Network Telethon, The Salvation Army, Easterseals and American Heart Association through his volunteer efforts. Peoria Magazines is proud to name Henry Vicary as the 2018 40 Leaders Under Forty Alumnus of the Year. Read our interview with Vicary in the November 2018 issue of iBi!

2017 Alumnus of the Year: Councilman Sid Ruckriegel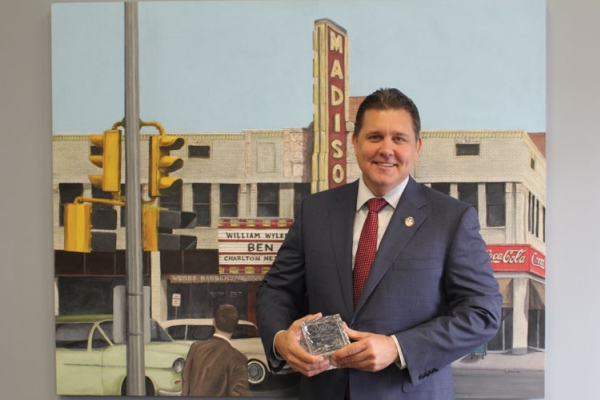 Since being named to the 40 Leaders Under Forty Class of 2003, Sid Ruckriegel's dedication to Peoria has only grown deeper. A well-respected businessman and entrepreneur, his strong work ethic and affable personality have long been among the community's greatest assets.
Having built a career in the real estate and restaurant industry, Ruckriegel is owner of SERVUS, Inc., whose operations encompass over 150 stores across four states.
His servant leadership is exemplified in a resume that runs for miles. A strong neighborhood advocate, he has served in numerous roles for the Moss-Bradley Residential Association, and his passion for historic preservation led him to serve on the City of Peoria Historic Commission and as a longtime trustee and past president of the Peoria Historical Society.
He is president of the Peoria Riverfront Museum Board, having served as a director since its inception, and director of APPSCo, mentoring youth through real-world entrepreneurial activities. His board service also includes Alignment Peoria, the Heart of Illinois United Way and many other organizations.
This extensive record of civic leadership made Ruckriegel an obvious choice for appointment to the Peoria City Council in 2015. Earlier this year, he was elected outright by city residents, finishing first in a strong field of candidates. As an At-Large Council member, he serves as city liaison to the Peoria Public Library, Downtown Development Corporation and Peoria Civic Center Authority.
Peoria Magazines is proud to name Sid Ruckriegel as the 2017 40 Leaders Under Forty Alumnus of the Year. Read our interview with Councilman Ruckriegel in the November 2017 issue of iBi!

2016 Alumnus of the Year: Judge James E. Shadid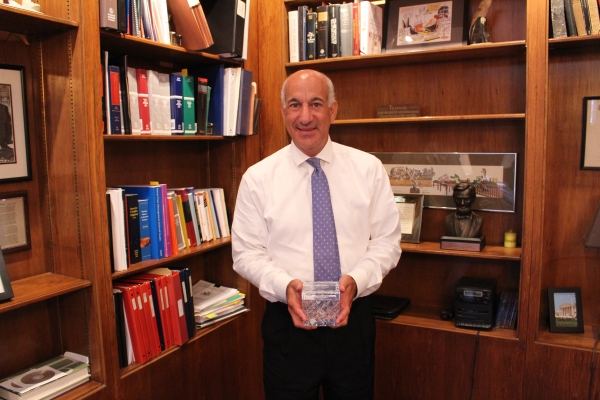 A member of the 1995 class of 40 Leaders Under Forty, the Honorable James E. Shadid's leadership and influence in Greater Peoria and beyond has grown steadily ever since.
An All-American athlete at Bradley University, Shadid earned his J.D. from the John Marshall Law School in Chicago. As a private attorney and part-time public defender, he compiled an impressive record of "against-the-odds" victories in the courtroom. He also served on the Illinois Court of Claims and as Illinois' assistant attorney general prior to his appointment to the Tenth Judicial Circuit of Illinois in 2001.
In 2011, he was nominated by President Obama for a seat on the U.S. District Court for the Central District of Illinois, where he has served with distinction as chief judge since 2012.
Shadid's extensive record of community involvement encompasses service on the boards of the Boys and Girls Clubs of Greater Peoria, PARC, the Pediatric Resource Center and Bradley University, among others. Peoria Magazines is proud to name the Honorable James E. Shadid as the 2016 40 Leaders Under Forty Alumnus of the Year. Read our interview with Judge Shadid in the November 2016 issue of iBi!

2015 Alumnus of the Year: Diane Cullinan Oberhelman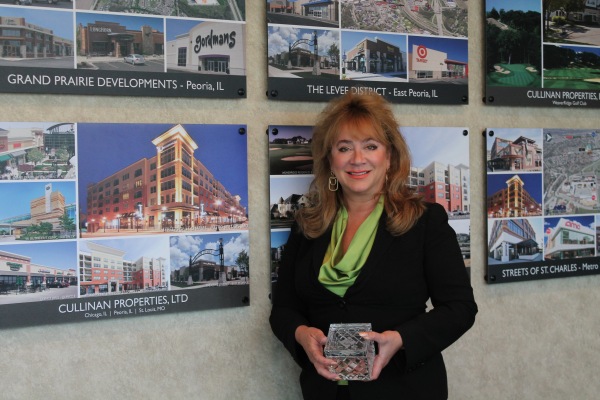 A member of the first class of 40 Leaders in 1994, Diane Cullinan Oberhelman has a lifelong passion for civic involvement, sitting on a range of economic development, healthcare and charitable boards. From being inducted into Junior Achievement's Central Illinois Business Hall of Fame, to being named Distinguished Citizen of the Year by the Boy Scouts, to receiving the Central Illinois Volunteer of the Year Award, her leadership in the community is unparalleled.
Her successful battle with cancer inspired her continued mission to support research, education and awareness through the Illinois CancerCare Foundation and Kids Konnected.
Cullinan Properties, the business she founded in 1988, is a regional powerhouse, responsible for more than $1 billion of projects across the country, including many pivotal developments in the Peoria area, from The Levee District to WeaverRidge to The Shoppes at Grand Prairie. Peoria Magazines is proud to name Diane Cullinan Oberhelman as the 2015 40 Leaders Under Forty Alumnus of the Year. Read our interview with her in the November 2015 issue of iBi!

2014 Alumnus of the Year: Dan Daly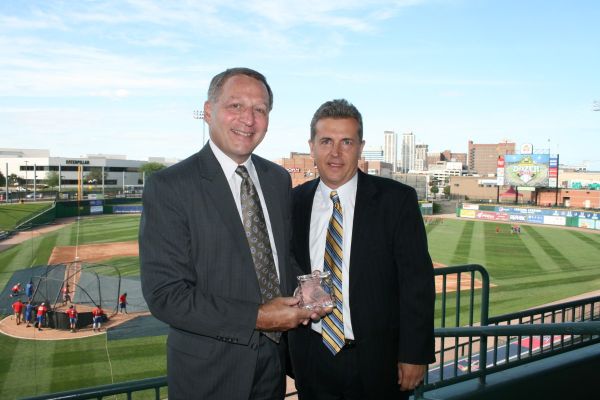 Dan Daly, market president for Busey Bank, was a member of the 1996 class of 40 Leaders Under Forty, recognized for his outstanding achievements at First Capital Bank and as a volunteer with a myriad of community organizations. In the 18 years since this recognition, his commitment to the Peoria region has only grown.
From receiving the Outstanding Young Graduate Award from Bradley University to chairing the 1999 Heart of Illinois United Way Campaign to his 15 years of service on the Peoria Civic Center Authority, Dan Daly's leadership in Peoria has been steady and unyielding.
He has played an essential role on the board of the Peoria Riverfront Museum and with the Human Service Center, CEO Council, Focus Forward CI and the Illinois Bankers Association, among many others. Nominated by his peers, Daly was named the first-ever 40 Leaders Under Forty Alumnus of the Year in 2014. Read our interview with Dan Daly in the November 2014 issue of iBi!