Each December, Peoria Magazine highlights area women who are making a difference in central Illinois, in conjunction with a half-day forum featuring breakout sessions, panels, featured speakers and more. The annual event is for professional development, personal growth and collective inspiration—a tribute to women in the workplace and a way to bring the community together and empower women leaders.
Persevering Women
Realizing our collective strength, power and capabilities are limitless
Wednesday, December 2, 2020
A virtual conference
In a year like no other, we meet challenges in our past, present and future with unwavering strength.
Join us for a morning to motivate, encourage and inspire!


Panel Discussion
Moderated by Dr. Sarah Zallek, OSF HealthCare
Featuring:
Dr. Sarah de Ramirez, VP & Chief Medical Officer of Clinical Innovation, OSF HealthCare
Rachael Parker, Peoria County Clerk; Owner, Sweet Cakes by Rachael
Jodi Hoos, Peoria County State's Attorney
Mary Jo Papich, ArtsPartners of Central Illinois & Jazz Education Network
Monica Hendrickson, Public Health Administrator, Peoria City/County Health Dept.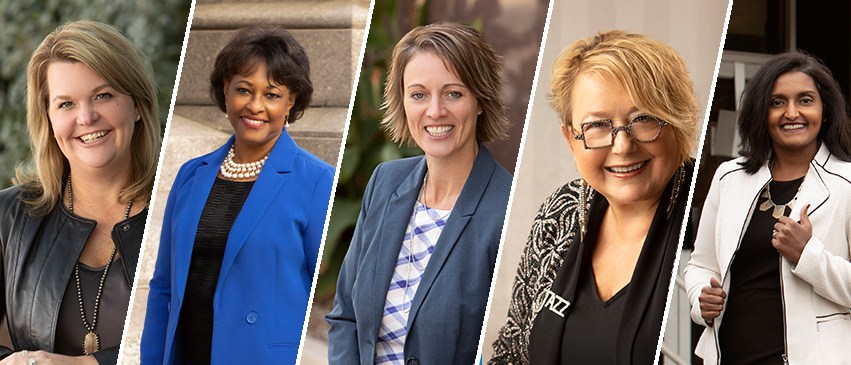 Morning Keynote

Jean Becker, Midwest Technology Lead, Accenture

What gets you to "success" isn't necessarily what it takes to get you to peace. By developing a lifestyle of perseverance, you can not only fulfill your dreams, but achieve an enduring peace—even in the most difficult times.
Breakout Sessions

Roopa Foulger, VP – Data Delivery Healthcare Analytics, OSF HealthCare

Forward Through Change

Having survived cancer, relocated across three countries and worked in multiple industries, I know change is a constant. Through professional, cultural and health challenges, I have learned to survive—and thrive—by looking at the possibilities and leaning on my family, friends and colleagues.

Jennifer Seaton, Partner, RSM US LLP

The Business Case for Gender Diversity

An examination of how gender diversity is an asset to an organization as women contribute unique leadership skills that act as an accelerator of high-performing teams and organizational profitability.

Jennifer Zammuto, President, Heart of Illinois United Way

Trust the Process

Discover how you can persevere and become more resilient by prioritizing your actions and following simple steps to transform your life, your business and your community.

Erica Baird, Global Allied Product Manager, Caterpillar Inc.

Building Your Personal Network

No one ever makes it to the top on their own. Don't search for mythical bootstraps to pull yourself up—instead, build your own community of mentors and supporters. And don't forget to pay it forward: the best way to leave a legacy is to open doors for others!

Dr. Ted Bender, President, UnityPoint Health – UnityPlace

Mental Wellness Starts With You

Are you experiencing increased levels of stress and fatigue? You're not alone—today's world is filled with uncertainty. Join us to learn how to prioritize your mental wellness, invest in your own self-care, and find balance in your personal and professional life.

Tiffany Carpenter, Attorney & Counselor, Howard & Howard

Don't Count Us Out Yet!

While the global pandemic has proven challenging beyond measure, women will continue to survive and thrive, as we have always done. Amid these challenges, we will offer personal perspectives and potential solutions to retain and promote women in the workplace.

Corporate Sponsors

 
 

Executive Sponsors

 
 
 
 
 

Associate Sponsors