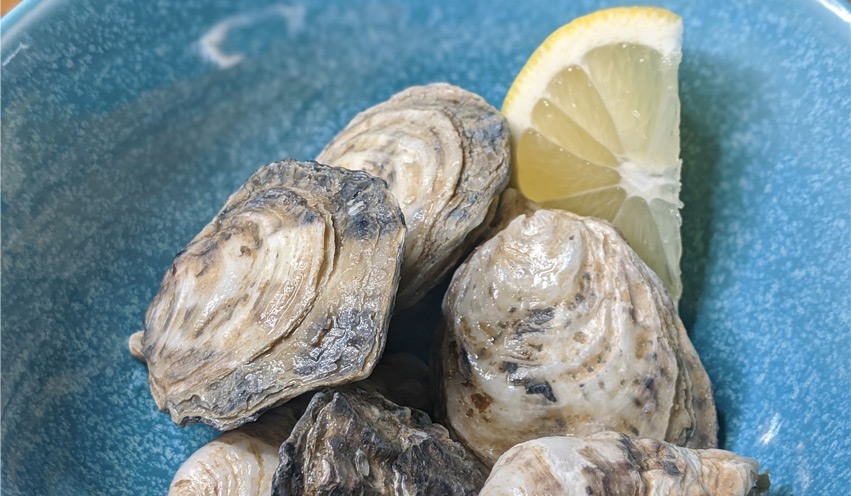 Seafood from Dixon's Seafood Shoppe
Relocating to a brand-new city sight unseen is an exercise of faith. There were many questions swirling around in my head: "Will I like it here? How do I recreate the feeling of being at home in a new city?" On one hand, I could have buried my head neck-deep in the sand of work (which I did), or be brave and go out to explore the city and its surrounding towns and villages and engage with the community. I essentially did both, as my role in innovation and startups at the Greater Peoria Economic Development Council gave me the freedom to get out of the office to meet businesses and people from all walks of life.
Having traveled extensively over a number of years, family and friends both old and new can testify to the diversity of my tastes and preferences. And therein lies the challenge. Could a place like Peoria satisfy the taste buds of a global traveler who once stopped for brunch in Guam and then high tea in Tokyo? Could the Peoria region appease the cravings of a gourmand who would travel far and wide in search of the best shellfish and seafood?
Having lived in the area for a little over two years now, I am pleased to share that our city, towns and villages have far exceeded my expectations. The diversity of high-quality produce, meat and seafood available here continues to surprise me as I discover and uncover new markets, retail shops and eateries. 
Seafood in the Midwest
I constantly tell my friends around the world that I've eaten a lot more oysters and shellfish here than I ever did when I was living in Boston. Where do I get the freshest seafood and shellfish, might you ask? Dixon's Seafood Shoppe, headquartered in East Peoria, has been an institution in the Peoria area for decades. Now in its third generation of business, they supply the freshest seafood and shellfish from the east and west coasts—and from around 
the world. 
Sun-bleached oyster shells punctuate my kitchen window sill as a testament to the varieties of oysters I've shucked: kumamotos, miyagis, kusshis, sun hollows and many others. To appeal to oyster aficionados like me, Bob Dixon III, the manager of Dixon's retail shops (in Peoria on North University and East Peoria on North Main), features a weekly rotation of specialty oysters from the coasts and even Canada. Not too far behind is the Hy-Vee at Grand Prairie where, earlier this summer, I had the happy discovery of palm-sized oysters harvested from the pristine waters of the Damariscotta River in Maine.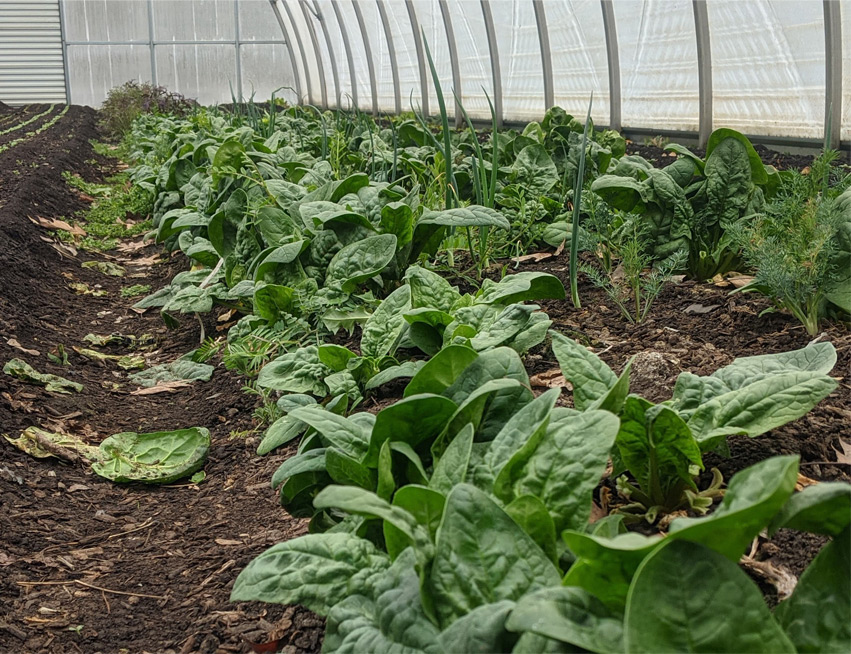 Harvest from the Heartland
Not to be outdone by the available seafood, the Peoria region is surrounded by some of the world's most arable land for farming produce. Earlier this year, I had the opportunity to visit Hungry World Farm in Tiskilwa, Illinois. Hungry World is a not-for-profit farm with a mission to educate people about growing and consuming healthy food. During my visit, Stephan Rauh, lead produce farmer, shared that they focus on sustainable practices to support healthier food and a healthier world. 
They deliver their produce weekly to Sous Chef, a boutique grocery store in the Peoria Warehouse District. For those who live in the Germantown Hills and Metamora area, they also have an online shopping portal where you can purchase and arrange for pickup or home delivery of farm boxes and other individual items. I had the pleasure of taking home a few bags of recently harvested, all-naturally grown spinach. Boy, if you haven't had the opportunity to try farm-fresh produce, you've absolutely got to change that!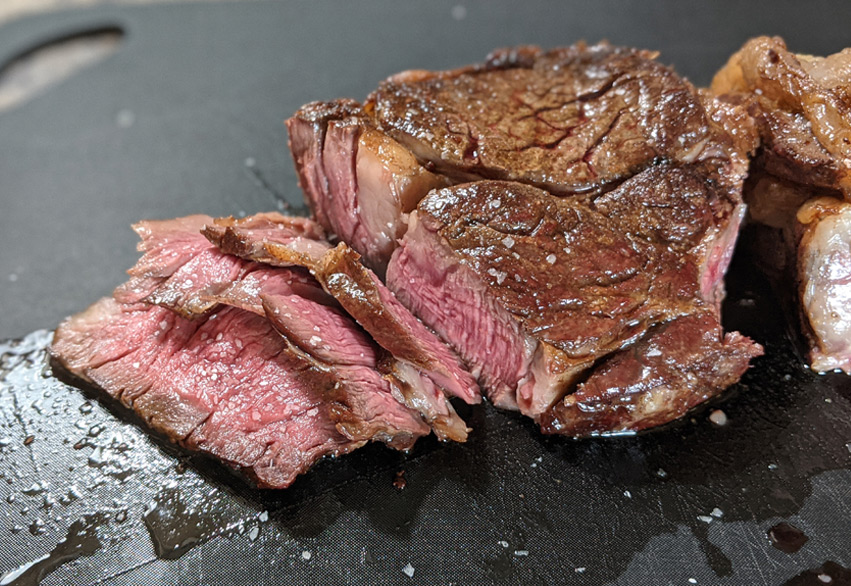 Resilience in the Meat Supply Chain
The pandemic and the resulting lockdown have caused havoc in the food supply chain over the past year—especially in the processing of meat. On one of my featured vlogs with startup businesses through Distillery Labs, our regional innovation hub, we interviewed Keith Heiar, founder of Source to Table, and Louis John Slagel, owner of Slagel Family Farm in Fairbury, Illinois, who was their primary meat supplier. Because Slagel Family Farm had its own on-site processing facility, they were able to weather the perfect storm of supply chain insanity as numerous other processing facilities were shuttered due to the COVID-19 outbreak. 
I'll let you in on a little secret. Slagel is a well-known brand that supplies a number of high-end restaurants in the Chicago area, including Alinea, a Michelin starred restaurant. Needless to say, upon hearing how they supply some of the best restaurants in the world (and further learning that they hang their beef for 25 days, unofficially aging it), I quite literally had to bite, and ordered a very large ribeye roast from Source To Table. You can check out the video series on my Instagram @andrewngui. In the video, I kept calling the steaks "roasts" because they were a really thick cut of bone-in ribeyes. To demonstrate how easy they were to cook, I reverse-seared one in a regular gas oven at 200°F and finished it off in a ripping hot cast-iron pan bathed in a perfume of thyme, garlic, rosemary and luscious butter.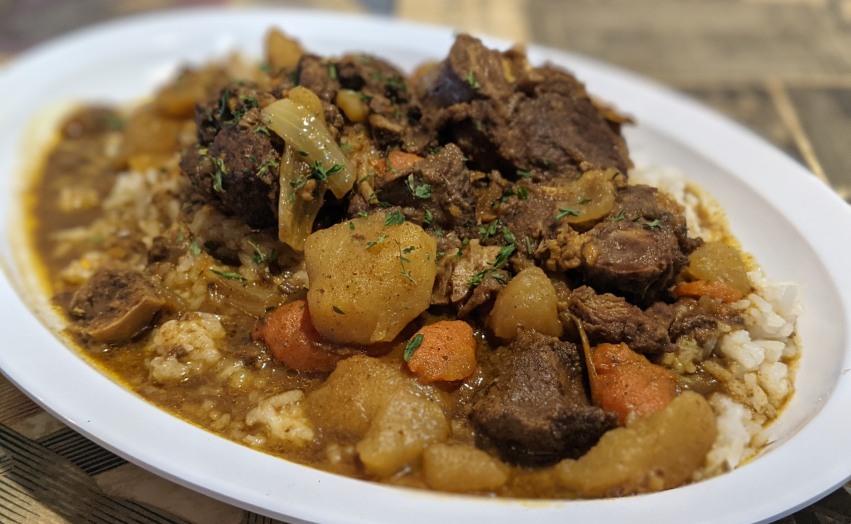 Lunch in the Caribbean
I was elated to learn about the opening of Jerk Hut in Campustown on West Main Street across from Bradley University. Finally, someone was brave enough to venture out and share a taste of the Caribbean with Peoria! The first time I visited I was disappointed to discover that the meat supply chain was still a challenge, so I had to wait a number of weeks before their goat curry became available for lunch. This, however, led to the discovery of their very delicious, yet unassuming jerk pork chop with collard greens, mac and cheese, rice and corn bread. A little wiser after that, I called a few weeks later and was ecstatic to learn that goat curry was now available—and made a beeline straight for Jerk Hut.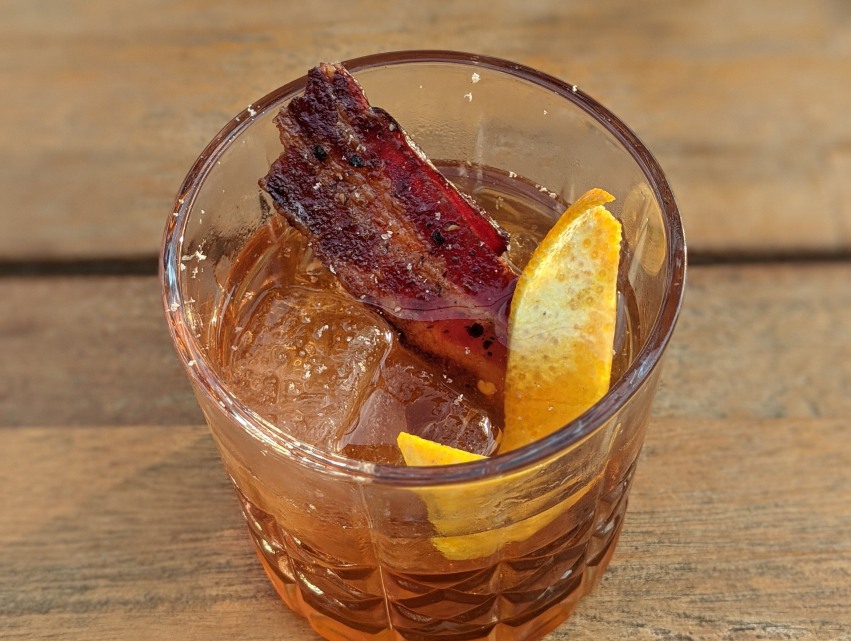 A Night on the Town
Ever since Black Band Distillery launched at the height of the pandemic—brewing hand sanitizer before they even began brewing whiskey—I've been longing to visit. Teased by an endless stream of meticulously styled, fine food photos on Instagram, I waited with anticipation until their soft launch was well underway, and then scheduled a time to visit with a few friends. Needless to say, the experience was satisfying. 
Not only did the cocktails pair well with the food, one food item stole my heart: the humble potato in the form of a side order of crispy fries finished with beurre noisette, sea salt and herbs. Everywhere I visit, I tell everyone that Black Band has undeniably the best fries in Peoria. Not to be outdone in the drinks department, the Morning Old Fashioned holds its own with Black Band's bourbon, maple-coffee infused syrup, nutmeg and candied bacon—a truly delicious beverage to pair with the Double Smashburger featuring Kilgus Farmstead beef, caramelized onions, American cheese, pickled green tomato, dijonnaise, frisée and shallots over a sesame brioche bun.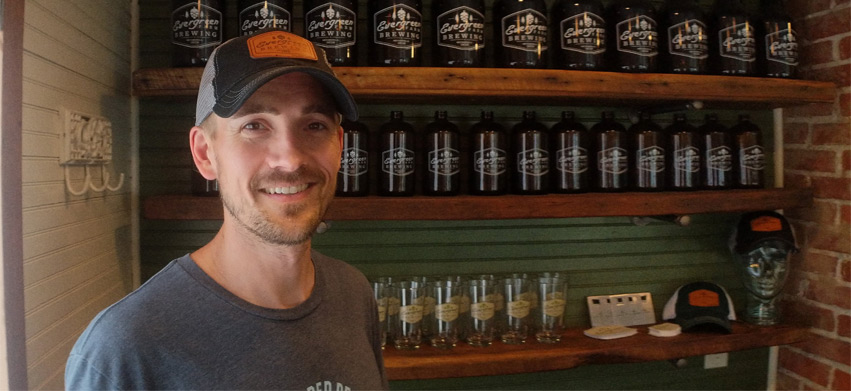 Destination Evergreen Farm
On a recent visit to the Germantown Hills and Metamora area, I had the opportunity to meet Adam Sommer, founder and proprietor of Evergreen Farm Brewing, an up-and-coming destination for a handcrafted fresh one. Adam's mission is to create a destination at the farmhouse brewery, celebrating small-farm heritage and keeping storied traditions alive through the enjoyment of craft beer. His plan is to have a range of four beers on tap in the tasting room, and as demand grows, gradually expand into the "hop-zebo" (a gazebo with hops growing up the sides), where patrons can wind down after a long day or gaze out into the fields surrounding the heartland.
As you can see, there is so much more to discover in the Greater Peoria region. As someone who is not a Peoria native, moving here sight unseen has allowed me to take it all in from the perspective of a child—learning about all the region has to offer and walking the yet-to-be discovered trails of emerging food entrepreneurs and innovators, who have such a deep passion and connection to the land. This is what makes Peoria and the region special and unique: a people with the heart and passion to steward the land they live on, to care for their families and one another as if they were their own. 
If you are bearish about Peoria, I invite you to join me on one of my regular sojourns across the region as I continue to unearth all the treasures it has to offer. Reach out on Instagram or Facebook, or email starthere@greaterpeoriaedc.org. PM