Q&A with Todd & Cyndi Hohulin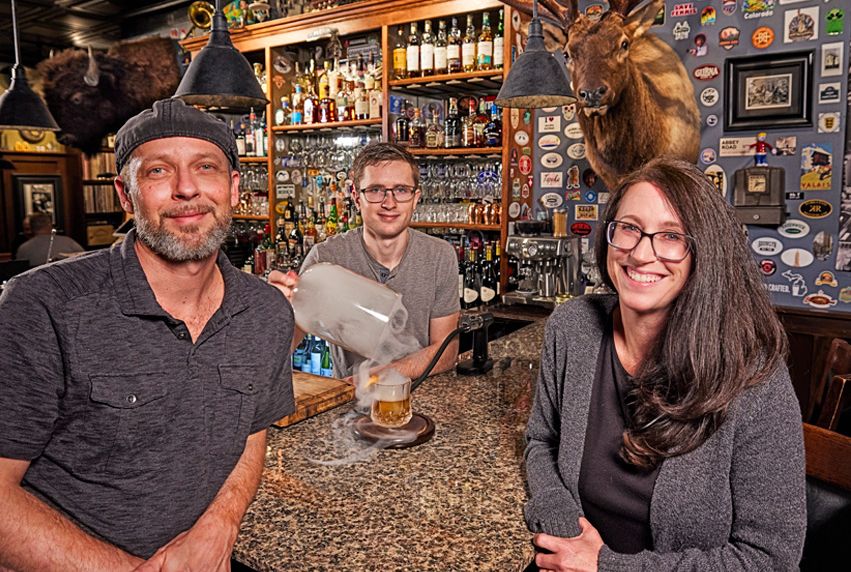 Todd, Isaac and Cyndi Hohulin of 2 Chez
Located in north Peoria, 2 Chez is known for its fresh ingredients, handcrafted dishes, craft cocktails and an intimate fine-dining ambiance that belies its nondescript strip-mall setting. Its walls are uniquely decorated with family photos and meaningful mementos, and its owners are personally invested in getting to know every customer—an authentic caring that just can't be faked.
When Todd and Cyndi Hohulin bought the business from its previous owners, they had their work cut out for them. Not only were they practically broke, the couple had a lot to learn as operators in a notoriously difficult industry. Their longstanding success—even during the challenges of the COVID-19 pandemic—is a testament to their hard work, dedication and passion for what they do. 
A self-proclaimed "small-town guy," Todd was raised in rural Goodfield, the youngest of nine children. Food was a central part of his childhood, and those early memories continue to inform his creations in the kitchen. Cyndi grew up in a small family in Chillicothe and has been a consistent force behind the scenes even as she maintains another full-time job. With help from their two children and a loyal staff, 2 Chez is a crown jewel of the Peoria restaurant scene: familiar and consistent but never boring, a haven for relaxed hospitality in a world that moves blindingly fast.
Todd, what was it like growing up with eight siblings?
Todd: Chaos! My mother is definitely a saint. We were a really busy household. To me, that was normal… I was the youngest so I was just in my older siblings' way. [Laughs] We all worked growing up—we detasseled and walked beans and bailed hay and had paper routes. My parents had these massive gardens, so I always thought they had this deep passion for gardening. As I got older, [I realized] they were just trying to feed us. Can you imagine feeding that many people three times a day? Looking back, I realize how much work it was for my mother. 
My grandparents lived down the road, and they had big gardens and fruit trees. My grandmother's dad was a truck farmer. Back in the 1920s, '30s and '40s, they had a fruit and vegetable stand at the farmer's market. It's interesting because today we buy mainly from a family in Princeville whose dad also used to sell at the farmer's market. We made the connection that her father and my great-grandfather used to sell side by side. And then my grandmother went on to serve as a private cook for some of the wealthy families in Peoria.
I spent a lot of time working in the garden with my grandmother—picking fruit, saucing apples and so on. I consider myself a pretty good cook, but not as good as her! On top of that, I find myself chasing these flavors and dishes… It's funny how we're drawn back to our early childhood experiences. I still remember the smells and tastes of my grandma's cooking—and those are still some of the things I gravitate back to.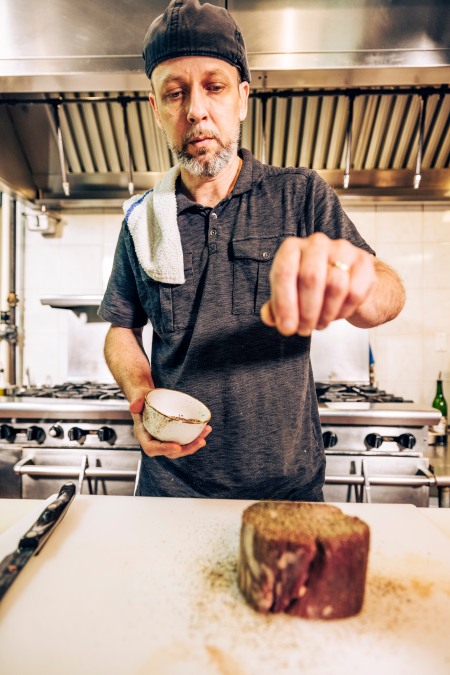 How did the two of you meet? 
Todd: I waited on her table at Perkins [Restaurant]. I gave her a free order of French fries.
Cyndi: I left my name and number because he was so darn cute!
Todd: I felt like she was a little out of my league, to be honest. I didn't want to seem desperate, so I thought I would wait a few days to call. The next day, I was leaving work and had her phone number in my wallet… and I got mugged. My wallet was stolen so I didn't know how to get ahold of her—we didn't have cellphones back then. But I remembered her last name and where she was from, so I went and called every "Lux" in the phonebook!
Was that your first restaurant job?
Todd: Perkins was my second restaurant job. My first restaurant job—I saw an ad for a new Maid Rite and worked there for about a year. Strangely enough, that job was in this plaza and not only that… it was right here [2 Chez's current location]. Isn't it funny how I ended up back in the exact same place? 
I don't think I wanted to become a restaurateur until I worked at Rizzi's [Italian Restaurant]. I was there for 10 years before I opened this place. 
Cyndi: He also worked at Red Lobster for a short time.
Todd: I did go to Red Lobster from Perkins, as they had higher ticket prices and a little better fare. I took a job as a server, but I did a lot of other things for extra money. Around three times a week, I'd get there at five or six in the morning and unload the freezer truck. I was broke and ambitious, so I did whatever I could do. 
What were you doing around this time, Cyndi?
Cyndi: I was working and going to school. I went to ICC and graduated in 1995. I started working as a telemarketer at age 16 and went from department to department, and I'm still with that company. It's now called Mediacom. 
So you were at Rizzi's for 10 years. Did you learn a lot during this time? 
Todd: I learned a lot and met a lot of great people. I was a server and then a bartender for many years, and then I managed a location. I just picked up knowledge along the way. When our kids were young, I was working there and going to school. Then I graduated and we were just kind of thinking, What do we want to do? We talked about it and started looking at restaurants.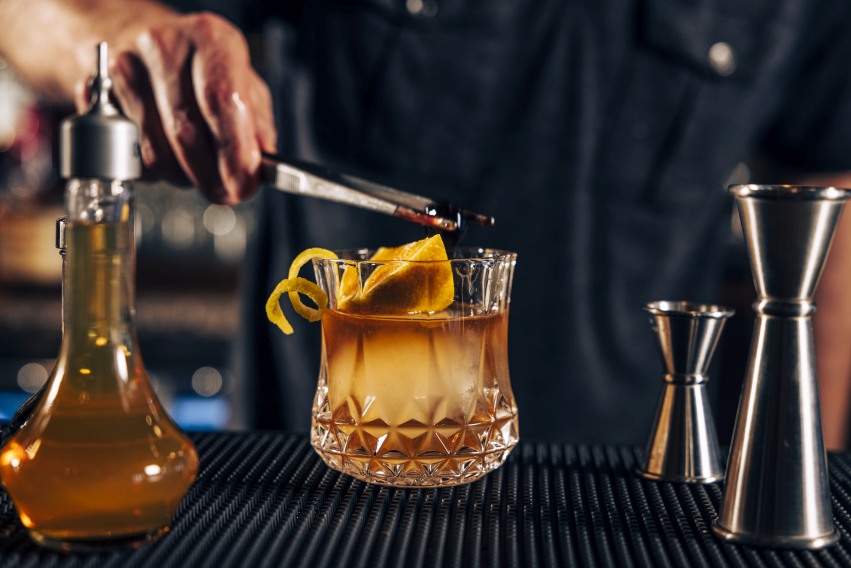 Tell me about the previous owners of 2 Chez. How did that deal come about?
Todd: There was a restaurant in Galesburg, Chez Willy's, owned by Bill and Brenda Egenlauf, and it was very successful. They opened 2 Chez in Peoria in 2003… but eventually got tired of running two restaurants, 50 miles apart. That's where we came in. 
Cyndi: This wasn't the first restaurant we looked at. We looked at Ponte Vecchio, and that fell through. Then we looked at the Brick Oven in Washington, but it needed a lot of work. 2 Chez had already sold… but that deal fell through, so they called us. 
Todd: We needed a place that didn't require a massive amount of work because we had no money. 
Cyndi: I had to take money out of our 401(k) just to put a bid in on this place.
Todd: All the banks turned us down except one. To make a long story short, they gave me a little less than half of what we needed. So we hocked the house, 401(k), cars, whatever we could. I had a really good friend who helped us out; he met us at the restaurant and signed a check right there. We just did the deal on a handshake. We paid him back right away, and we appreciate it to this day.
Were you always planning to keep the name?
Todd: We had other names picked out. But on the day we opened, we only had $500 in the bank. Our house and cars were liened up against this place, money borrowed from friends and family, and many months of begging banks for a loan. We decided to keep the name because I didn't think we could afford a new sign. 
Cyndi: We didn't even have money to buy artwork! That's why the family photos are here.
Todd: They say you are absolutely crazy to start a restaurant with less than six months to a year's worth of working capital. For those first two years, we were sweating bullets.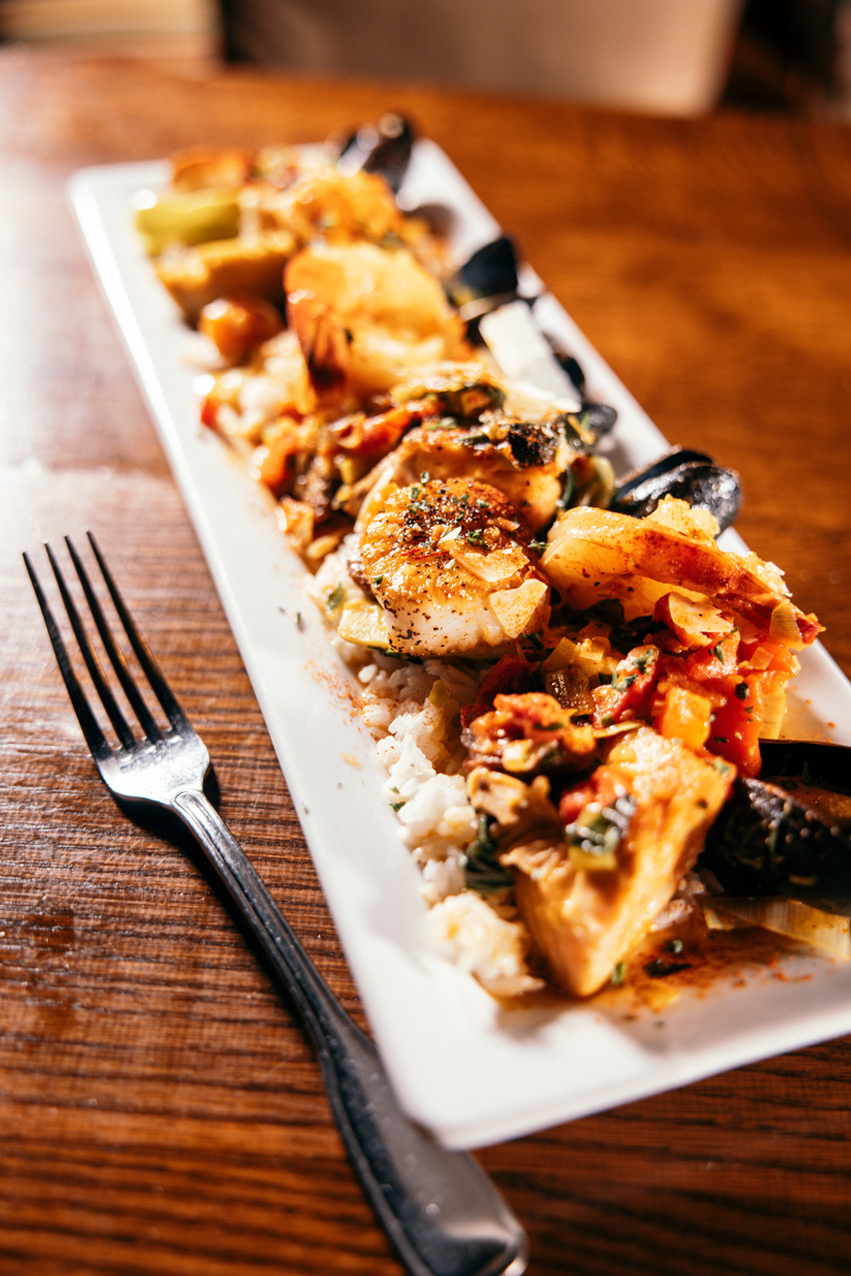 Do you remember any of the other names you considered? 
Todd: Wildflour… that's F-L-O-U-R. 
Cyndi: And Good Thymes… T-H-Y-M-E-S. It always reminded me of Cheers, where you hang out and everyone knows your name.
Todd: Or Good Times, the show. There were a couple others, but those were the two we settled on. 
Did you change the menu after you took over?
Cyndi: Everything except the calamari and the catfish. 
Todd: We kept the macadamia catfish, and we changed the calamari a little bit. We changed the décor and menu, but we kept the wait staff. That was an interesting day. They were all sitting at the bar—the whole staff—and the [former owners] said, "Hey, we just sold… Welcome the new owners." We walked in and they looked at us like, You've got to be kidding. Who are these young punks? 
Cyndi: They weren't too happy.
Todd: I probably wouldn't have been too happy either! Bill was a very talented chef and a good operator. With us coming in, boy, what a learning curve. 
So you had to prove yourself to your own staff…
Todd: That's exactly right. They didn't have anything to prove to us, but we had everything to prove to them. We knew nothing about the business side. We couldn't afford a bookkeeper. Our problem was that I wasn't afraid of failing... I was young, dumb and really brave. 
What gave you that audacity—the confidence to believe you could do it?
Todd: The backbone of this business is relationships, and that's one thing I felt I could achieve. I knew if I had enough time, I could build enough relationships that it would all work out. That is still what we're doing today—it's one of the pillars of our business. 
I know you make it a point every night to come out and visit with most of the tables…
Todd: We want to know what's going on. Our worst fear is not a bad experience—it's being unable to correct a mistake. There are a lot of polite people in this world. Our worst fear is somebody telling the staff that everything was okay, despite having a bad experience. That's one of the reasons we like to touch base. We listen. And honest concerns get addressed here.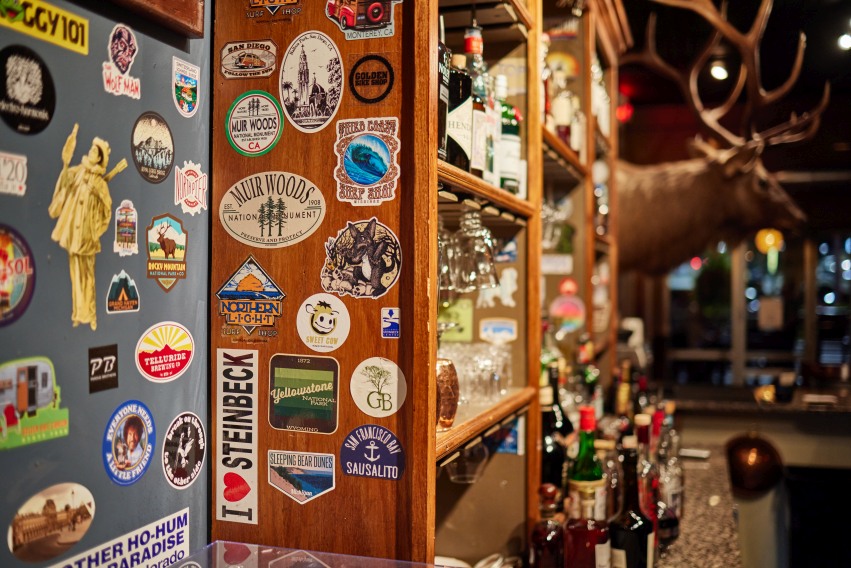 Tell us about the stickers and memorabilia behind the bar and on the walls.
Todd: We love to travel. Everything you see is from places we've been, places we've eaten, places we've stayed. That is really the backbone of my menu, too. I don't look at what other restaurants do in this town. I don't want to compete with what they do, and besides, they're friends of mine. It's better for us to go have a great trip, eat as much great food as we can, and come back to Peoria. Then I start recreating things from my head and my flavor palate into a dish, with my own twist. That is essentially how I develop our menu. 
Everything here has meaning to some degree. There is no theme; this is just who we are, and that's served us well. I can adapt and change the menu really quick, and I don't have to be defined. If our suppliers are out of something, I can adjust. I'm very fluid with the way we do things. That's one of the beautiful things about being small—we can change in minutes. 
And you have the turntable playing vinyl records…
Todd: I actually built a platform for it, as I do a lot of woodworking. I love tangible items—things that you can touch and feel and that remind me of things. When we come to work and see something we picked up at a faraway place, it brings value to our lives, too. And it makes us love our business even more.
Cyndi: It is our second home, even to the dog!
Todd: We work seven days a week and when nobody's around, the dog is usually here with us.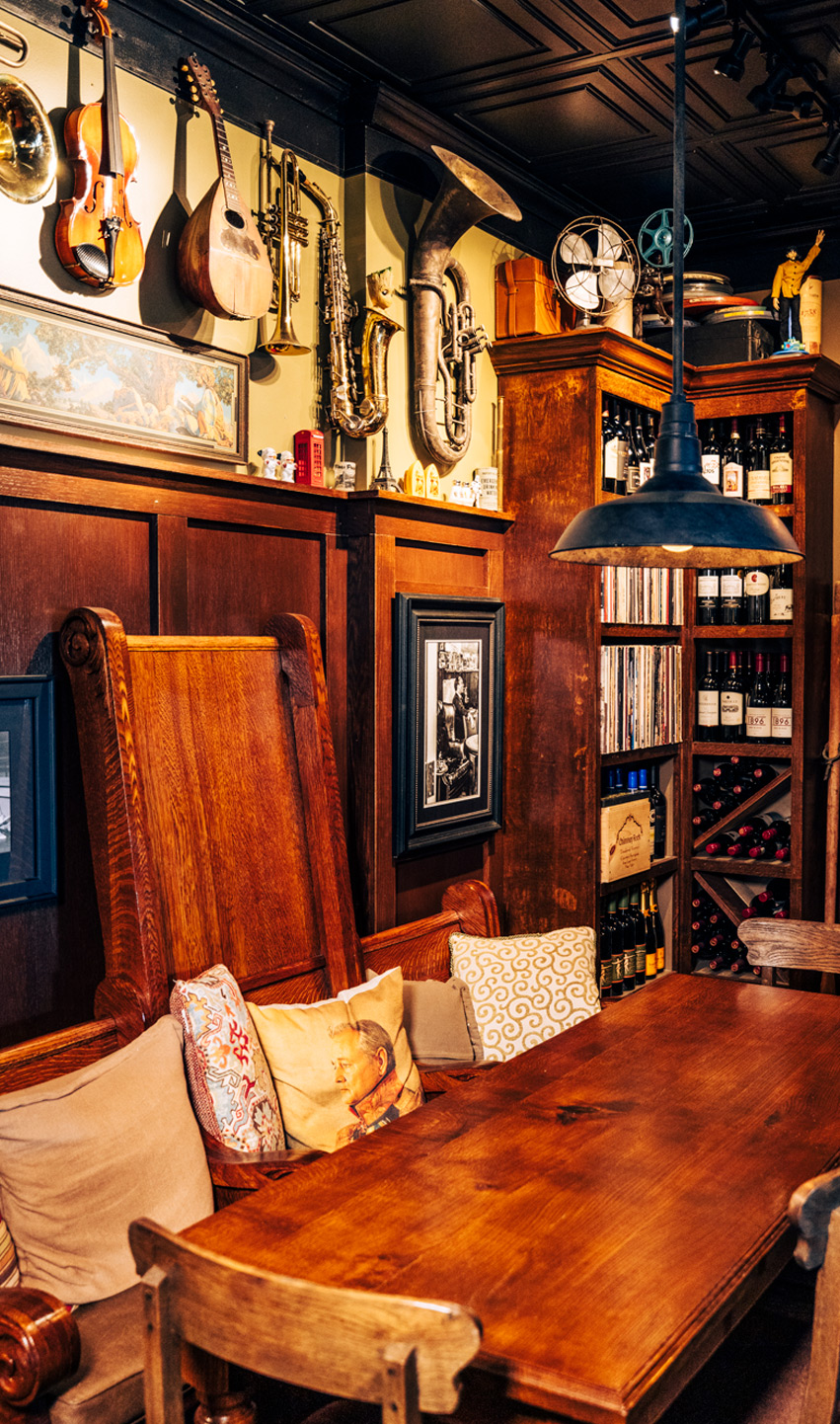 Tell me about your family and the roles they've taken in the business. 
Cyndi: We have two children. Sierra is 26 and lives in Denver. She still manages our Facebook page. Isaac started hosting when he was 14 and worked his way up to waiting tables. Now he is 22 and he's behind the bar. The kids have always been part of it, even down to our corporation name, TCSI Inc., which is Todd, Cyndi, Sierra and Isaac. 
Todd: Cyndi has done a lot of things in the background over the years. With COVID, she started helping a lot more with the day-to-day operations. And it's been a beautiful thing. 
Cyndi: I started taking most of the phone calls. Everyone knows who I am now. 
Todd: I never liked to miss a phone call, but I found out really fast during COVID that I couldn't keep up. It was like a tidal wave…
Cyndi: It was actually depressing him. So I said, listen, we have an answering machine—let the machine pick it up, then I'll get all the messages and personally call everyone back. So that's what we started doing. Now I'm working a lot of extra hours here. I work about 45 hours a week at Mediacom, and I put in 20 hours here.
Todd: We've been trying to build the business to the point where we can afford the luxury of working together full-time. We were almost ready to make the plunge, but then COVID knocked us back. We just have to hold tight for a while and work hard until we can see some clarity as to what the future may hold. 
What was your initial reaction when COVID hit?
Todd: The first thing I did, I went to figure out what I could salvage from my walk-in cooler. What can I portion or what was freezable? What am I just going to have to let go? Then I turned off every cooler that wasn't going to be essential for whatever the next stage was. I unscrewed every light bulb. We didn't know what was ahead, but we knew we had to get our costs down right away. 
Did you shut down entirely before starting back with carryout?
Cyndi: For two weeks. 
Todd: Sometimes it's hard to think in the middle of a storm. We came up with this system during those two weeks.
Cyndi: The to-go bags, the containers, the process of taking it to people's cars, how we were going to write a menu every day to keep the variety up but inventory down…
Todd: Over the last year and a half, we've taken every stone in our business, turned it over and said, "Is this something we need to keep? Scrap? Change?" We just put everything on the table, and we're still doing it. We're still transitioning. We jumped from one frying pan into another. So there was COVID, and everybody's grappling with the health situation. It's been a wild ride getting supplies in, and then the rising costs. Our questions are: How do we keep our staff happy and making money, make sure our customers are satisfied and keep coming back, and keep costs under control? These are challenges every restaurant faces. But there are things we've learned in the past year and a half, that years of experience probably couldn't have taught us. 
Tell me about the addition of outdoor dining at the front.
Cyndi: We did that last August. He was a mad man for two days! It saved us when we couldn't open up inside.
Todd: We always wanted outdoor dining; we just had to rush it a little bit. But that is the silver lining of all this. From now on we can serve out there, but we haven't added seats to our restaurant. What we did instead is just spread them out so it's a more comfortable environment. 
There's a major employee shortage in the restaurant industry. Has that impacted you much? 
Cyndi: We've been lucky and have held on to most of our staff.
Todd: It's really dire what's going on out there. Everybody keeps coming back to the unemployment [benefits], but I also think there's a major demographic shift. With the Baby Boomer generation retiring, there are fewer workers, and we've been producing less children in this country for decades. This has been coming for a while, and I think COVID just hastened it. We also need to remember that over 650,000 people have died… you can take a percentage and lock that into the labor shortage, too. I don't think there was one thing; I think it's been many things.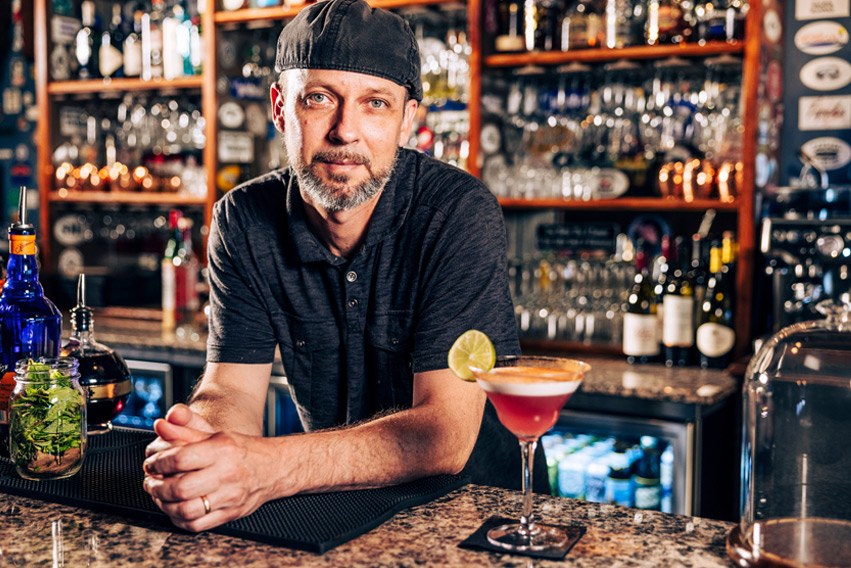 What drives you when you're back in the kitchen? 
Todd: I just want to create something authentic. Everybody's so busy these days... One thing we often miss is a good meal. Right now, even good, quality restaurants are starting to move toward a lot of premade things—for cost reasons, for labor reasons. And I get it: survival is key. But the more they move toward that, the more I want to draw back from that.  
We don't have a microwave; everything is made fresh to order. We have a very small freezer and a very big walk-in cooler for the size of our restaurant. I hope what people are tasting when they come here is just good quality and consistency. There are certain things in restaurants you can't cheat. I can always tell when a salad dressing is homemade or not. Desserts, I can tell every time. I can tell just by things I taste that are not present in food made with fresh ingredients. 
We know 90 percent of our clientele by first name, and we just hope the other 10 percent will tell us their first names and become regulars. They become family and friends to us, and that's what I get excited about. I'm excited to know that if somebody had a rough day, they can come here and it just melts away. We just want to be a safe harbor from the broader world.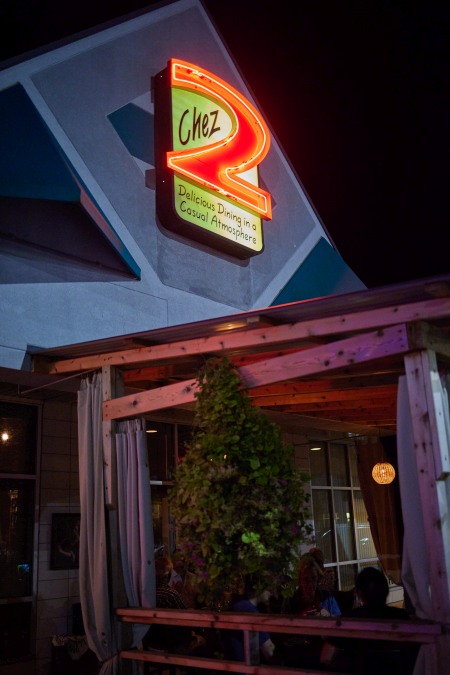 Any big plans for the future? 
Todd: I would love to have my wife, friend and business partner making decisions here right along with me. We complement each other very well, and our customers love her. I always have plans for the menu; the problem is keeping things in balance. I have a very small menu for a reason: it limits me. I'm a perfectionist—I'm always trying to change even the good things. But our biggest goal is just survival. 
We were open seven days a week [pre-COVID]… Now it's four, but we're working seven days a week. We want to add one more night, but we will probably always stay closed on Sundays and Mondays. We like the balance… not just for us, but for our staff. 
I just going to ask how you avoid burnout… 
Todd: We are probably more burned-out now than we've ever been. We eat great food, but we're always eating standing up or on the run. I'm not sure if we've managed burnout or if we just push through… 
Cyndi: We haven't stopped. 
Todd: Our goals for the future will allow us to step back a little bit, and that's going to be huge for us. We'll get there eventually. 
Is there anything else you want to add? 
Todd: We're just thankful for a lot of things. I can't stress enough that our goal has never changed at this restaurant during COVID, pre-COVID and post-COVID. We just always wanted to be a good bridge in the community. PM
2 Chez is located at 7815 Knoxville Ave. in Peoria. For more information, visit 2chezrestaurant.com or call (309) 691-2224.