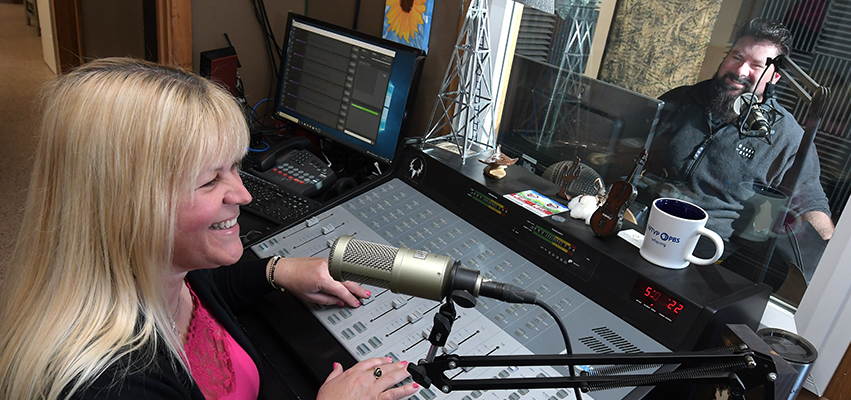 Rob and Emily Sharkey in Home Audio Studio
Bradford, Ill. — population 750, the sign says – would, at first blush, seem like an unusual place for a burgeoning media business.
Actually, "I think it's around 400" people, jokes Rob Sharkey with the characteristic wit and relaxed humor that have earned him and his partner in all things, wife Emily, quite the following on radio, online with a popular podcast, on television including a PBS show, and most recently in print with a regular columnist's gig.
Sharkey – aka "The Shark Farmer" – has a weekday radio show (SiriusXM RuralRadio, Channel 147, 3 p.m. CST), which he and Emily broadcast live from their barn studio just steps from their Bureau County home, 45 minutes north of Peoria. Their SharkFarmer Podcast is more than 300 episodes strong, brags 7 million plus downloads, and also enjoys weekend satellite radio play.
Meanwhile, they have a regular SharkFarmer TV slot on Omaha- and Nashville-based RFD-TV — the nation's first 24-hour television network focused on agribusiness and rural lifestyles — now entering its fifth season (airing at 8:30 p.m. Tuesdays, 1:30 p.m. Saturdays on DirectTV Channel 345, DISH 231, and AT&T 568). About a year ago, they began filming "A Shot of Ag" for WTVP Channel 47 (1 p.m. Mondays, 8:30 p.m. Thursdays).
All in all, the Sharkeys' weekly reach across all platforms exceeds 4 million in North America, with a decent following in Europe, South America, even Australia and New Zealand.
Recently, Rob took up the pen – or resorted to the computer keys, anyway — with an anchor column in the "Seed and Soil" section of Peoria Magazine. His Twitter following surpasses 30,000, and he has become a much-in-demand public speaker, traveling to some 25 states for 43 speeches in 2021.
Did we mention that the Sharkeys also run a busy outfitting operation (booked "through 2025, at least") and merchandising line, farm 2,000 acres of corn and soybeans, and have produced four "little sharks" by the names of William, Anita, Eian and Steven, ages 12 to 23? Their golden Labrador, Sammy, rounds out the family.
Their business motto may be "sharks don't swim backwards," but whew!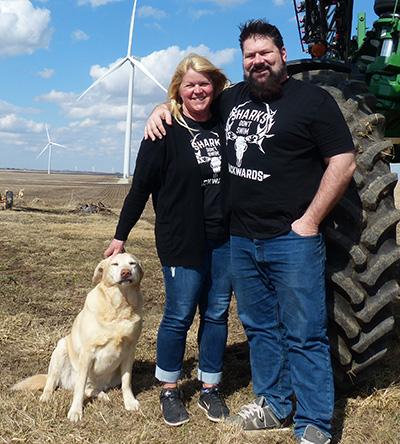 THE BEGINNING
For Rob Sharkey the self-described "digital media disruptor," it all began 47 years ago, when he was born into a family that included five older sisters — "my parents just kept goin' til they had a boy" — on "the next farm over" from where he finds himself rooted today, a couple miles east of Bradford. He grew up "the stereotypical farm kid," part of the fifth generation to work the soil his family has been connected to since 1854.
He met his future wife at a 4-H function when both were 16. "He asked me to dance," recalled Emily, noting that the conversation may have started because she was standing next to the food table, and "if he chickened out" on the way over he had cover in "the pizza behind me."
She was from Princeton – Rob will tell you he married a girl from the big city — and he was from Bradford — "And I married a good ol' farm boy," Emily says now – and they have been together ever since, apart from the commuter relationship they had for a short time in college, when Rob first attended Illinois Central College and Emily headed down to Southern Illinois University in Carbondale. They were married just a month after both graduated from SIU.
In 1996, the Sharkeys returned to Bradford to work on the farm with his father, before venturing out on their own to raise hogs.
"I wanted to be my own guy," he said, but in 1998 the hog market crashed and "we were broker than broke." They refused to declare bankruptcy, however. "We clawed our way back but it took a good eight years to pay everybody back."
As they were working up to eight odd jobs to make ends meet in 1999, the Sharkeys ran an ad in the back of a magazine about organizing hunting trips in a 30-mile radius of Bradford – back when Illinois was "the be-all, end-all to hunt deer" – and thus was born their outfitters operation. So successful was it that it "likely saved our farm," said Rob.
DIPPING A TOE INTO MEDIA
Things had turned around by 2017 when, on the heels of a Twitter account that had developed a decent following, they decided to give the podcast a try.
Look at their on-site studio and modern equipment today and you might think "wow," but "it didn't start out that way," said Rob. Indeed, they've come miles and miles from the "$50 Blue Snowball (microphone) that you buy off Amazon," the pillows they put around it to get the sound just right in one corner of their 120-year-old farmhouse, and their Skype feed.
They really didn't know what they were doing, and at the time there was little to compare it to, but Rob had a gift for gab, a fun-loving irreverence and a certain fearlessness. Emily had the business sense, the organization skills, and a knack for production and promotion. And they got better at it.
"I know what I am. I'm a creative person," if also "a competitor. I don't like anybody beating me," said Rob. As far as the business side, however, "this would not be a thing without Emily. This would still be me talking into a Blue microphone."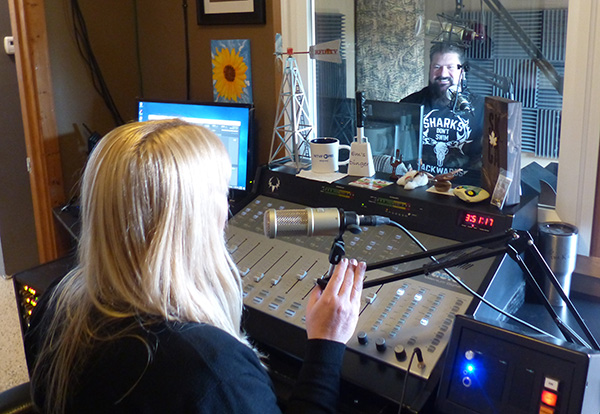 In any case, what started as "a hobby, just for fun," then "took off." When potential advertisers began to call, they thought they might have another business on their hands. Then media companies started to get in touch, including Ag PhD in Baltic, S.D. After driving eight hours north for what turned out to be a 10-minute meeting, "we had an XM show." Suddenly, they were "influencers."
LEARNING THE ROPES, FEEDING THE 'CONTENT BEAST'
Rob may be something of an on-air natural, but there have been lessons along the way.
For one, "Rob discovered the art of listening," said Emily of the husband who used to walk into an interview with a list of questions and dutifully ask each one, until he discovered it was much more interesting to just go with the flow and respond to what his guests wanted to share.
To what do they attribute the podcast's success?
"We were interviewing people who had not had a platform before … and I'm really funny, those two things," he jokes. Emily, of course, sets the record straight. "I think people wanted to hear from the average farmer," as opposed to the usual industry and corporate suspects, she said. "Everybody has a story … a turning point. It filled a void, right?"
So far, they've been able to feed the "content beast" that their shows have become. Rob figures he's interviewed more than 1,500 people over the last five years.
The two have a flair for finding interesting, even eccentric characters, such as Derek Klingenberg, the Kansas farmer known for playing the trombone to his cows.
Some episodes bring listeners to tears. There was Chris Beaudry, the assistant coach of the Humboldt Broncos, the Canadian junior hockey team that lost 16 players in a horrific 2018 bus crash with a semi. He had missed the trip because he was "a farmer doing chores that day." It was Beaudry who got the call from the coroner, asking him "to come identify the bodies … because I was the only one left," he told the Sharkeys.
"I didn't breathe through that one," said Emily.
NO SIDESTEPPING
Meanwhile, Rob doesn't shy away from controversial or politically charged topics, from isolation and mental health on the farm to substance abuse in rural areas to gay farmers. They tackle issues of gender (such as the trend of women returning to farms as owners/ operators), of technology (such as GMO products), of the environment (fertilizer and other chemical use), of animal treatment (the notion out there "that we're all smacking our cows"), of climate, of government farm policy, of corporate influence.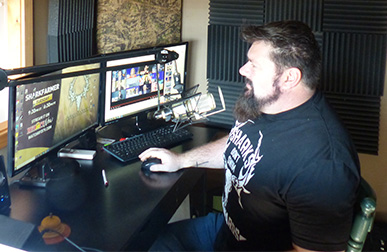 Sometimes they take a neutral stance, sometimes they'll address the misconceptions they perceive on both sides, but "when we started talking about it, nobody (else) wanted to touch it."
There have been some real conversation starters.
There was Cody Flint, an aerial applicator in Mississippi who had a bad reaction to the COVID vaccine, to the point of compromising his crop-dusting business. There was Fran (Feekes) Magnussen of Iowa, who lost her scalp and ears in a farm accident and "didn't hold anything back … to help people with farm safety issues." There was Olympic high jumper Nathan Leeper, who went on the air with Sharkey in 2017 to talk about how he overcame his battles with the bottle with the help of friends and family in his small Kansas hometown. The show has taken them from rural violence in Africa to wildfires in Australia to war in Ukraine.
THE REAL DEAL
"We've got the numbers. We know who's listening," said Rob. Evidently, rural America wants more than talk about input prices and crop yields, important as those are.
"Rob is such a creative talent" who in many ways has become "the voice of the hard-working rural American" while Emily is "the driving force behind the show," said their RFD producer, Deidre Cischke. Part of the show's allure is the humor, but the fact-based presentation also resonates, she said.
"SharkFarmer is a wonderful family show and there's never a dull moment. I'm looking forward to Season 5 and many more seasons to come."
Besides the entertainment, authenticity is a big part of the Sharkey appeal, but in a modern environment where there can be a price for speaking your mind in unfettered fashion, especially with sponsors, there can be a temptation to self-censor. One slip of the tongue can invite no end of grief. It's a balance.
"We always try to keep it so if you have your family in the car … We're pretty careful," said Emily.
A NEW CALLING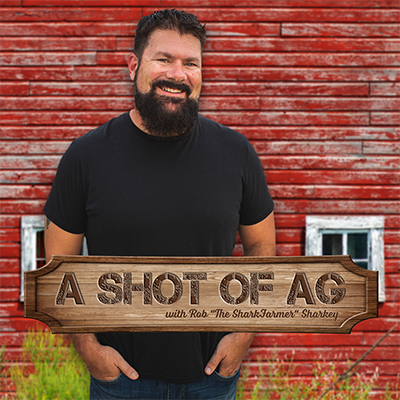 The Sharkeys never started out with a mission, they were just trying to make a living and kept walking through the open doors. But if a calling has emerged, it's making the subject of farming more approachable and accessible to those who may get no closer to it than a grocery store.
To the degree there's an urban-rural divide, the Sharkeys would like to help bridge it. Rob can talk "farmerese" with the best of them, but he likes the challenge of the PBS show's wider, more diverse audience.
"Farming is difficult," said Sharkey, which is why many farmers look for ways to add value to their land, like the windmills that dot his property ("a no-brainer," he said).
Today, the family's media income is "bigger than the farm," and it doesn't seem to have peaked, said Rob. Though it looks to be a good year for the nation's growers, between volatile input costs and fluctuating commodity prices, the future causes concern. "It's nice to have something like this."
Their media efforts have earned them a level of celebrity. Hardly a week goes by that a fan doesn't stop by, out of the blue. Meanwhile, in Bradford, said Emily, "We're just the Sharkey family we've always been."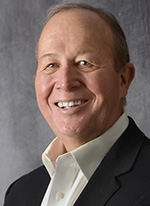 Mike Bailey is editor in
chief of Peoria Magazine.

FOLLOW THE SHARKEYS