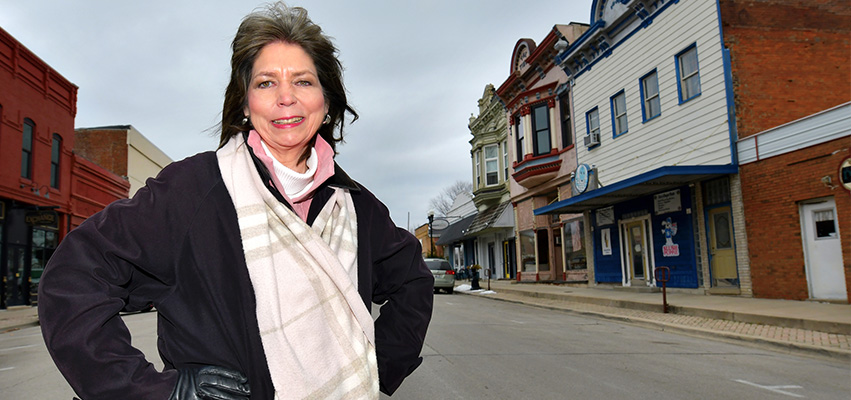 Mayor Liz Skinner stands on Delavan's main drag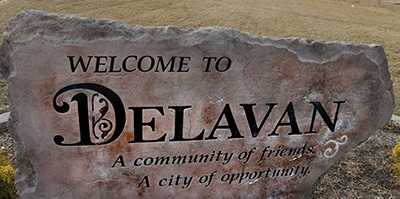 Look around Delavan, this quiet Tazewell County community of 1,600 people, and on the surface, it appears to be your typical, worn-out small town, complete with 19th-century architecture and empty storefronts.
This, of course, is also the town that produced Greta Alexander, the nationally known psychic who drew celebrities such as soap opera star Ruth Warrick ("All My Children's" Phoebe Tyler) to the Midwest for personal consultations.
It's a town where controversy raged in the 1970s and 1980s over the Del-Van Theater, an adult movie house.
It's a town that in the 21st century, developed a very different type of drawing card, at least for a time —Libby Mathers' Harvest Café, a farm-to-table restaurant that operated successfully until Mathers' untimely death in 2019.
Today, amid the corn and soybean fields that have long surrounded the town, Delavan benefits from a new cash crop. As one of the first communities in Illinois to establish a cannabis facility, Delavan has been home to Chicago-based Revolution Global since 2015.
The company's 75,000 square-foot facility sits innocuously on the eastern edge of Delavan, where it produces medical marijuana, with plans to expand given the state's 2020 approval for the sale of recreational marijuana. Pot is a hit in Illinois, with sales topping $1.2 billion in 2021. The state now gets more tax revenue from marijuana than from alcohol.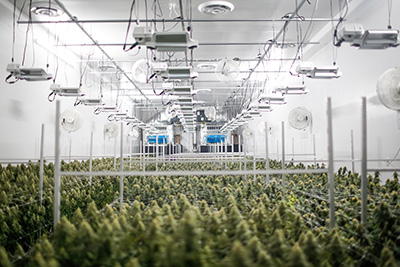 And little Delavan is a growing part of that big-picture plan.
Alas, the acceptance wasn't immediate. Liz Skinner, Delavan's mayor since 2008, recalled the first economic development meeting when the idea was floated to host a cannabis plant. "No one said a word," she recalls. "I think back and a kneejerk reaction could have been to say 'no way.' This is a small, conservative community."
In fact, in something of an ironic side note, it's a community that derives its very name from Edward C. Delavan, a well-known 19th century temperance advocate.
Eric Diekhoff, whose family has farmed in Delavan for generations, brought the cannabis concept to town. Now the general manager of the Revolution site, he's looking for plenty of activity in 2022.
"We've got another 75,000 square-foot building planned for cannabis production, along with a two-story office building at the site," he said.
Plant employment stands at 166 but should top 200 when expansion plans are completed this spring, said Diekhoff. That makes the cannabis plant the town's biggest employer, larger than the local school district.
Revolution also purchased the vacated Harvest Café and three other buildings in the downtown, making use of the finished apartments that Mathers had installed.
"Our goal is to get the restaurant up and operational. Initially, we were going to lease the space to an outside firm but we decided to operate it ourselves," said Diekhoff.
He and Skinner said citizen support for the cannabis facility and the Tax Increment Financing (TIF) District that was established for that purpose has been notable. "The community was excited to begin with and is still excited," said Skinner.
Indeed, while many other small towns struggle financially, Delavan receives about $300,000 a year from Revolution through the TIF – split between the city and the school district, which gets 25 percent of it -- which "puts us in a position to offer incentives to (other) businesses," said the mayor.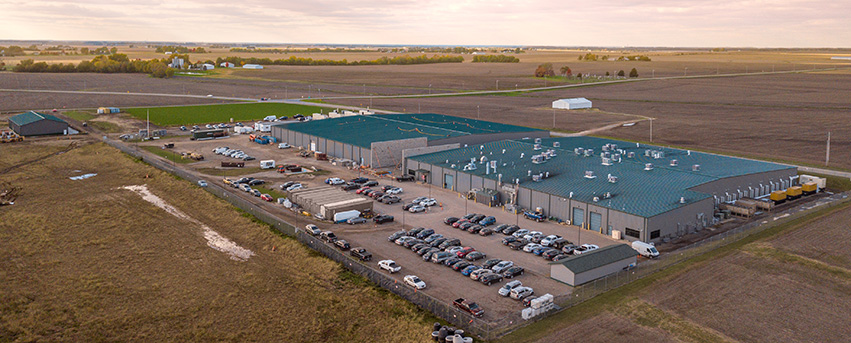 "Revenue can be used to pay for infrastructure inside the TIF boundaries such as new water lines, sanitary sewer lines and roadway improvements," said City Administrator Matt Fick. Beyond that, TIF money can be used for redevelopment incentives to assist developers with the costs of stabilizing old, historic buildings, as well as reimbursing developers for land or building acquisition costs. Delavan has 16 years remaining on the TIF.
The plant's expansion also means that Delavan's TIF share will double, starting in 2024, said Fick, noting that the added revenue gives the city options and opportunities. The town pool needs to be rebuilt. A grocery store is needed to replace the one that burned down in 2014.
In a separate, negotiated agreement, Revolution's monthly sales can trigger a payment to the city amounting to $100,000 per year, which goes into Delavan's general fund and supports basic city services, said Fick.
The two-block stretch of Locust Street in Delavan's downtown is on the National Register of Historic Places, which also makes the town unique, said Sheila Montney, managing partner of Win Together LLC, a consulting firm that's been conducting surveys in town on future development.
Montney said her efforts, being provided pro bono, are designed to link the views of residents and business owners with city officials. The group will report its findings to the Delavan City Council this spring, she said.
Sandy Denman, 81, has been reporting her findings to readers of the Delavan Times, the weekly paper she's edited since 1998. Denman maintains a family tradition, as both her grandfather and mother previously served as the paper's editors. A lifelong Delavan resident, she recalls a time when Delavan's downtown scene was dynamic.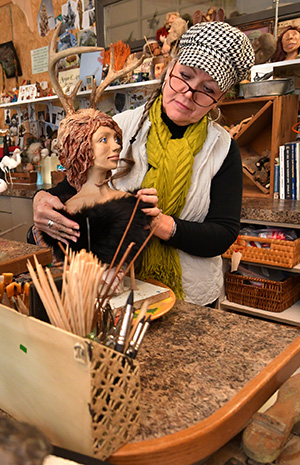 "In the 1950s when I was in high school, you couldn't walk on the sidewalks, it was so crowded on a Saturday night," she said.
"We had clothing stores, restaurants, a hardware store. We had everything right here. There were probably five grocery stores and six or seven gas stations, if you can believe that," said Denman.
Delavan's downtown may not be subdued for long, said Morgan Elser, a sculptor who maintains a studio on Locust Street. "My husband and I have lived in Delavan for 21 years. It's a charming place to live. We think Delavan could be a baby Galena," she said, referring to the popular tourism destination in northwest Illinois known for its business district of well-preserved 19th-century buildings.
While she's seen Delavan through a lot of changes, Denman said she wouldn't live anywhere else. Since her husband and business partner died last year, she divides her time between the newspaper and the town museum across the street.
The concept is still brewing, but Denman is thinking "about a museum for small-town newspapers. We still have some of the old (printing) equipment. The way newspapers are dying out, our kids won't even know what a paper is," she said.
They will if they come to Delavan, where Denman plans to continue publishing until at least until 2024 -- when the paper celebrates its 150th anniversary -- and where past and present have come to terms in trying to ensure there's a lot of life left in this 185-year-old community.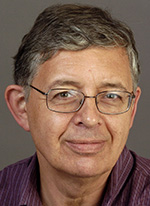 Steve Tarter is a Peoria Magazine contributor who was born in England,
aised in Boston, moved to Peoria to attend Bradley University and decided
to stay. He has spent a career in journalism and public relations