Julie Robinson's passion – and her Local OPAL website – show the way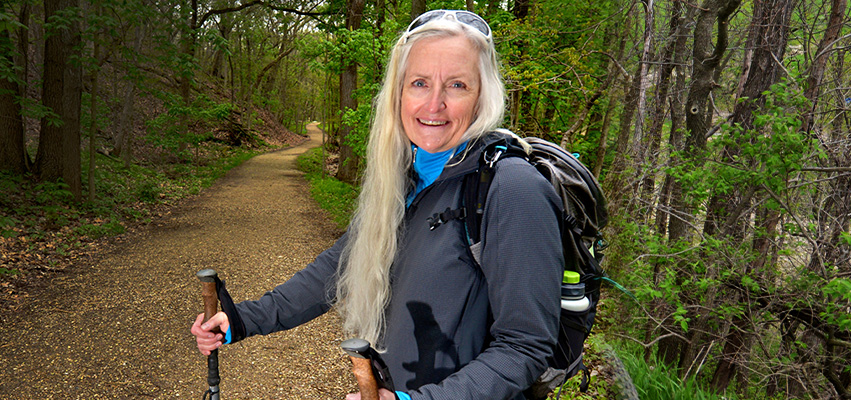 Julie Robinson is on a one-woman quest to drive central Illinoisans outside.
The retired schoolteacher also is on a crusade to put the lie to the oft-heard contention that there's "nothing to do" in these parts.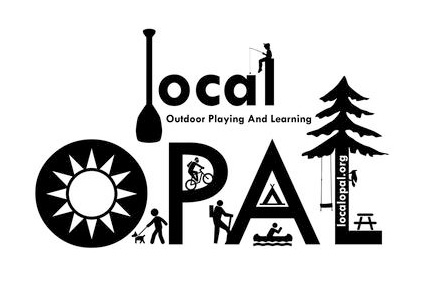 To the contrary, her Local OPAL website, www.localopal.org, has identified more than 440 publicly accessible recreation areas – 94 in Peoria County alone, another 96 in Tazewell — that she has exhaustively mapped in an eight-county region around the city, with more to come.
If there is a campground, biking and hiking trail, fishing hole, wildlife sanctuary, playground, dog park, canoeing/kayaking spot, sledding hill, wetland, forest, etc. anywhere in central Illinois, Robinson knows about it, can share the directions to get there, and can provide almost encyclopedic detail to ensure its maximum enjoyment, from its flora and fauna to the availability of restrooms to whether it's stroller-accessible. 
"I want everybody to realize what's in our own backyard," Robinson said. "You can do all this stuff without getting 20 miles from home and never having to fight traffic. In my opinion, we are missing the boat."
Depending on the season, she can devote full-time hours to the website, which includes doing her due diligence by traveling to explore the various locations. As she says, "Local OPALing is now a verb in my house."
Given the amount of work involved, without the slightest bit of compensation – "Oh, this is purely a labor of love" — Robinson is far too humble in her self-description.
"I'm a great pointer-outer. 'Go here, go there.'" she said.
Robinson, 59, first began thinking about what would become her Local OPAL – the latter an acronym for Outdoor Playing And Learning – while teaching math and science over three decades in Peoria Public Schools, the last 20 at Richwoods High.
She witnessed great changes in her students over that time. Generally speaking, they had become more withdrawn and less likely to engage with others, more infatuated with the screens on their phones than with the world immediately around them, and decidedly sadder.
It was a far cry from her upbringing in Washington, where she had grown up in the Highview Estates subdivision, which backed up to acre upon acre of open land. It became a place of exploration for her, "a refuge" from life's unpleasantries.
"If I was outside, I was happy."
Her antidote to what she was seeing inside her classroom, then, was to encourage her students to get some fresh air and sunshine and human interaction. She tried to start an Outdoor Recreation Club, with limited success. She offered "math money," or extra credit, to those with photo evidence of their travels.
Then COVID came, leading to more isolation and depression. What Robinson had long preached became a bigger priority than ever.
"Physicians are writing 'nature prescriptions,'" she said. "Get outside."
Her classroom background makes her especially sensitive to the impact of unscripted play and fresh air on young children. She rattles off research showing how being outside affects cognitive and neural development, which then fosters improved learning and independence.
Intuitively, she already knew all that. Yet it wasn't until 2018, while studying to become a master naturalist with the University of lllinois Extension and driving by the Peoria Park District's Tawny Oaks-Singing Woods Nature Preserve one day, that Robinson thought to herself, "How have I never been here before?"
She went online in search of some central clearinghouse of area recreational opportunities, which she sensed were all there, right under her nose. Astonished to find none, she set about putting together "a little pamphlet for my students." Despite having zero experience with website design – all she knew was that the domain name had "to be easy to remember" and the platform "easy to navigate" or "you're doomed" — by 2020 Robinson had given birth to localopal.org.
She was retired — from the classroom, anyway – and she had more time than ever to feed her beast. Alas, "the only problem with building a website for an outside person is that it makes you stay inside."
She is amazed at how much public recreational land exists in central Illinois.
"We owe a huge debt of gratitude to all those people who came before us and said, 'This is important, we're going to save it, we're going to put our money where our mouth is,'" Robinson said.
She is doubly amazed by how little recognition there is of all that land's existence. There are a lot of "silos" in central Illinois, she notes, with too little shared information.
Yet her enthusiasm knows no bounds.
For starters, Robinson firmly believes that this part of central Illinois has not come even remotely close to fulfilling its tourism potential for outdoors enthusiasts.
Chicagoans have clearly discovered the Starved Rock corridor along Interstate 80, "which is beautiful but crowded." Might they be inclined to drive another hour south if they knew what was here?
What they would find is no end of hidden gems.
For example, central Illinois actually brags two Ramsar sites – wetlands determined to be of international importance by UNESCO – in the Dixon Waterfowl Refuge at Hennepin and Hopper Lakes, covering 3,100 acres in Putnam County, and in the Emiquon National Wildlife Refuge, an 11,100 acre-plus wetland in Fulton County.
She won't choose a favorite – "Who's your favorite child?" she asks to make the point – though she betrays a certain fondness for Sand Ridge State Forest in Mason County, near Manito, at 7,200 acres the largest state forest in Illinois. It is a remnant of the Kankakee Torrent that carved the Illinois River valley millennia ago. Cactus grows in the sand deposits left behind. Yes, in central Illinois.
The Fon du Lac Park District's Spring Creek Preserve in East Peoria gets a mention as a relatively recent and impressive addition to the lineup, as do Mason County's Revis Spring Hill Prairie and Jacob Wolf Memorial Fish Hatchery, Havana's Bellrose Island – formerly the "Isle of Cuba" because of its shape — the Jim Edgar Panther Creek State Fish and Wildlife Area in Cass County, the Coal and Mine Memorial Park in Toluca, all with utterly unique stories to tell, some of them creative solutions to an industrial past, like the ski hills built out of mine tailings that dot the landscape.
Meanwhile, Robinson loves to paddle the Mackinaw River.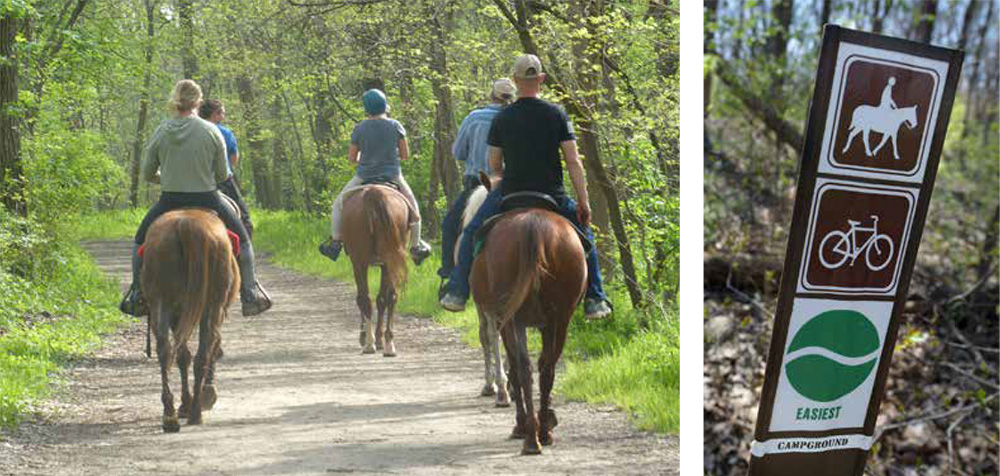 Google Analytics tells her that the website gets about 800 visits a month, on average, rising with the temperatures – "you could almost track the weather by it" — and blowing past 1,000 clicks during the summer months. With the site still in its infancy, there's every reason to believe the potential for growth is significant.
Meanwhile, she can hatch her ideas from home, on 17 acres just outside the Bartonville/Mapleton area. True to their calling, she and her husband, Tom, have planted nearly 7,000 trees on the property. That little forest inspires her, too.
Initially, Robinson intended to concentrate on just the Illinois River valley, but the more she did, the more she wanted to do. She just finished McLean County. Stark County is up next. "I feel like it's a jigsaw puzzle," she said.
Robinson wishes there were more places to rent bicycles and canoes and kayaks. She'd love to create a system modeled on the national park passport, where you can check off each place you've visited.
"The whole goal is not just to get people outside, but to connect them with each other," Robinson said.
Beyond that, as the years go by, she'd like to see changes in the Peoria area's self-perception.
"We should be a mecca…We have it all," said Robinson. Ideally, local attitudes would evolve to the point that central Illinoisans will someday say, "Well, why wouldn't you vacation here?" Moreover, the natives would no longer "look at their hometowns and apologize for whatever it is they think they need to apologize for."  
Her hopes were reaffirmed during a recent outing at Forest Park Nature Center in Peoria Heights, where Robinson came across dozens of children on the trails, some on a school field trip, others with their parents.
"It makes my heart happy to see all these people here," said Robinson, who seems incapable of meeting a stranger when she's in her element. She shared a quote from author Willa Cather with anybody who would listen: "Anybody can love the mountains, but it takes a soul to love the prairie."
"My husband says, 'There's only 24 hours in a day. You do realize that.'" Nonetheless, she subscribes to the view that "the greatest use of a life is to spend it for something that will outlast you."
"Great people, beautiful places, we have all of that," she says. "It's a great place to call home."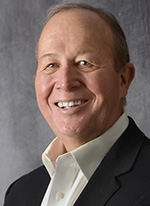 Mike Bailey is editor in
chief of Peoria Magazine.