Legend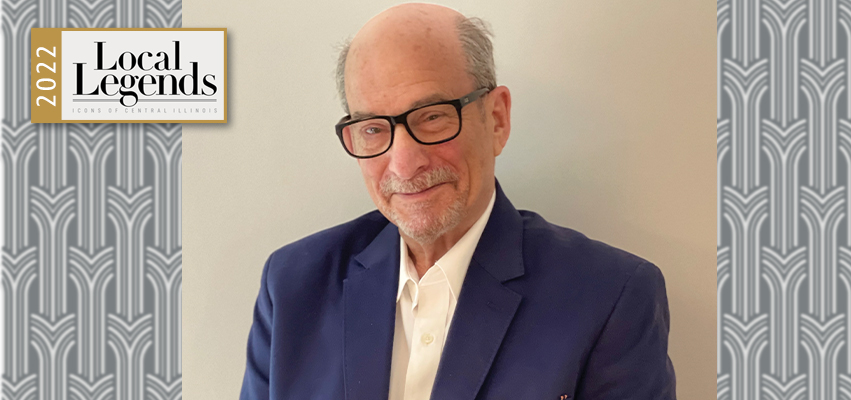 Survey the landscape of central Illinois the last 20 years and arguably few have left a more lasting imprint on it than a brash native New Yorker and no-nonsense Vietnam vet who exited that experience adamant that forever after, he would carve his own path and call 'em as he saw 'em.
It has been one long and winding road for Dr. Rick Pearl. 
Indeed, the Brooklyn-born, Long Island-raised, Manhattan-educated Pearl – with the accent to match, even after 24 years in Illinois – has been a warrior, from his service in Vietnam to Operation Desert Storm in Iraq. He's been a healer and saver of lives as surgeon in chief at OSF Children's Hospital of Illinois. He's been a builder and fundraiser, with his fingerprints all over the design and construction of Children's Hospital and Jump Trading Simulation and Education Center. Were it not for being drafted, he might have become an actor. Were it not for the lure of the stage, his future might have been on a football field. For the accomplished pilot, aviation could have been a career.   
 "If I were to write a book, nobody would believe it," said this man of so many talents, now 77. "I've had such a fascinating life, not a boring minute. So much joy and payback – and some pain — but gee whiz." 
BIG APPLE BORN AND RAISED
Rick was the youngest child of Elliott and Ann Pearl, two professional musicians who met during World War II, tied the knot and built a family of five that also included two daughters. Dad owned a leather goods company. Mom sold real estate.
Rick's exam marks would get him into Manhattan's prestigious Stuyvesant High School. Getting there from his Long Island home required waking at dawn and taking one bus and three subway trains, a three-hour round-trip commute – worth it for "the best education I ever had." 
An influence was a thoughtful, soft-spoken football coach, Murl Thrush. "He taught us how to be men," in addition to the gridiron skills that would earn Pearl a partial scholarship to the University of Rhode Island. 
Eventually he would sour on the demands of college athletics, change majors from chemistry to theater and find himself at Providence's Trinity Repertory Company, along with some who'd someday grace TV and movie screens, notably Katherine Helmond and Blythe Danner.
"Because I dropped out of school … I got drafted," said Pearl. "That was in 1966. That was the start of a very long odyssey" that would cover the next 29 years.
COMBAT IN A CONTROVERSIAL WAR
Pearl was slotted as an infantry machine gunner before it occurred to him that "if I'm going to be cannon fodder, I'd rather be lieutenant cannon fodder than PFC cannon fodder." 
Off he went to officer candidate school in Georgia, followed by Texas, where he experienced another epiphany: "If you're going to be an infantry second lieutenant, it might be more fun to be a flying second lieutenant than a walking second lieutenant." 
Next stop, flight school in Savannah, Georgia. The Cobra gunship was then a new helicopter, and "it was lethal," said Pearl, who would arrive in Vietnam to assume the controls of one in 1969, joining 500,000 other U.S. soldiers.
Over the next year, he saw significant action. He vividly remembers three emergency landings – "the hydraulics went out, I threw a tail rudder and engine failure" – from which he walked away without a scratch. One night, reminiscent of the movie "Platoon," 12 Cobras went out near the Cambodian border to provide close air support to ground troops. Eleven were hit with anti-aircraft fire – all but Pearl's. 
He was ready to go home. And he made a vow.
"When I left Vietnam and the plane was taking off … I literally thought to myself, 'I'm not going to take bullshit off of anybody for the rest of my life.'
"To a large degree, I didn't. And that cost me."
MED SCHOOL AND 'THE MOST FUN YOU CAN HAVE'   
After three years in Germany in which Pearl rose in rank and responsibility, he found himself having breakfast in Washington, D.C. with three-star Gen. Glenn Otis, who'd later add another star and command the U.S. Army in Europe. 
He asked Pearl about his future plans, told him the Army was changing and that "guys like you aren't going to have the kind of career you deserve. … If you figure something out, I'll help you." Otis made good on that promise, writing a letter of recommendation for Pearl's admission to medical school in which he described him as someone who "knows how to make life and death decisions" and "always makes the right one." 
Accepted to Ohio's Wright State University, Pearl — already in his 30s — initially thought it would be classwork, a three-year residency, and a job. Instead, he picked pediatric surgery, which would require eight years of additional training and make him a 43-year-old rookie.  
"How dumb was that?" Pearl says now, laughing. He got the same reaction at a med school reunion. 
"I said, 'Life is not a race, it's a process, but in actual fact, pediatric surgery is the most fun you can have with your clothes on.' And I really meant that," he said.  
"Imagine taking a baby who has a life-threatening congenital anomaly, doing one operation and giving their whole life back. If you can tell me something better than that, I'd like to know what it is. … Or a kid who gets hit by a car and is about to die, and you whisk him into the operating room and you put him back together and he lives. That's good stuff.  
"And I got to do that over and over again for 30-something years."
UNCLE SAM CALLS AGAIN
Pearl would land at Walter Reed National Military Medical Center in Bethesda, Maryland – among the nation's most prestigious, the place U.S. presidents go. While there, he enjoyed access to "the biggest medivac operation in the world. It's called the Air Force," which brought him sick children from around the globe. 
But as the calendar turned on a new decade, America went to war in the Persian Gulf. Again, Pearl was sent overseas, just four days following his wedding. Ultimately, he would organize a 150-vehicle convoy from Saudi Arabia 100 miles north into Iraq, 15 miles south of the Euphrates River – "before GPS … with a map and a compass, basically" – and establish the field hospital closest to the action. 
He would joke with fellow medics that they had "done something substantially wrong" with their lives to deserve "105 degrees and … sweating like pigs in the middle of a desert."
American casualties were limited, but Pearl remembers treating a ward of Iraqi POWs, one a Republican Guard captain who'd awake from surgery to remark, "Ah, I see we have won the war and forced you to take care of us." To which Pearl responded: "'Look down at your hands. What do you see?' He looks down and says, 'I see I am locked to the bed.' I said, 'We won. You lost.'"
DR. PEARL, MEET PEORIA
Pearl was back at Walter Reed when the Hospital for Sick Children in Toronto rang. He still owed a year to the Army, but it was a chance to work at one of the best pediatric facilities in the world. A request to the surgeon general of the Army produced a dispensation and early retirement after a highly decorated career in which he would reach the rank of colonel.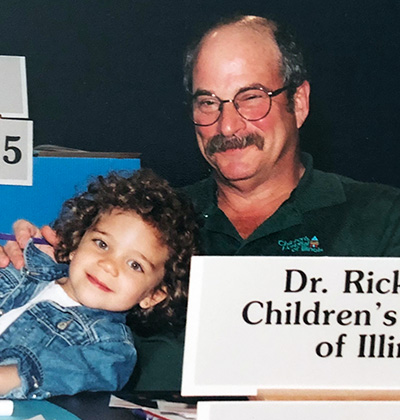 "That was my dream job," said Pearl, who would meet his future wife, Lauretta, a pediatric nurse practitioner there. "If you'd told me I was going to leave Toronto for a job in Peoria, I'd say you were smoking funny cigarettes."
A leadership change in Toronto compelled Pearl to begin applying elsewhere. San Diego looked promising. He'd never stepped foot in Peoria.  
"They wanted somebody to build a program and help build a hospital … but I wasn't sure if they were serious," Pearl recalled. His final interview was with Sister Judith Ann Duvall, Major Superior of The Sisters of the Third Order of St. Francis and chairwoman of OSF HealthCare. 
"I told her, 'It has to happen in my surgical lifetime.' She smiled and said, 'Dr. Pearl, if you agree to come … it will happen in your surgical lifetime.'
"So, I came."
In 1998, Pearl arrived at OSF as its lone full-time pediatric surgeon, on call nightly for an exhausting two years. In time, thanks to his recruiting efforts, other surgeons joined him. In 2007, ground was broken on Children's Hospital. On July 16, 2010, the $280 million building was dedicated. Sister Judith Ann was at the podium, "and the last line of her speech … she turns to me and says, 'Now, Dr. Pearl, you can't retire.'
"She remembered."
Peoria became home. The Pearls adopted a daughter here, Emily, now 22. 
And every single day he walked into Children's Hospital, "I felt good," said Pearl. "Every day I drove down 74 and looked at the building, I felt good. How could I not? It's like my baby."
A MEMORABLE PATIENT
Fifteen years ago, a young girl from the Chicago area was badly injured in an ATV accident in Fulton County and transported to Children's Hospital. Pearl would run into her distraught father in a hospital elevator and reassure him that his daughter was in very good hands.
His. 
The DiSommas were grateful, and generous. They stayed in touch. During one visit, Bill DiSomma — co-founder of Jump Trading Group, headquartered in Chicago – asked what additional needs OSF might have. Pearl had an idea.  
As a pilot, he knew that aviators routinely do simulation exercises before ever jumping in a cockpit. Imagine if a doctor could virtually map a patient's body and rehearse the surgery beforehand. Fewer surprises. Less risk. Practice makes perfect. He and others from OSF returned to Chicago with a presentation.  
Over lunch, DiSomma quizzed him, including on the price tag. "I said, 'I'm not sure, Bill. I think something like $25 million. And he took a bite of sushi, looked me in the eye and said, 'We can do that.' And that was that. … That's how we got our Sim Center. 
"Serendipity at its finest." 
Jump Trading Simulation and Education Center opened in 2013 and it has been a game changer – for its R&D, its economic development potential, its top-notch talent.  
"That building makes a difference, not just to OSF HealthCare," said Pearl. "It makes a difference around the country and around the world." 
'ONE IN A MILLION'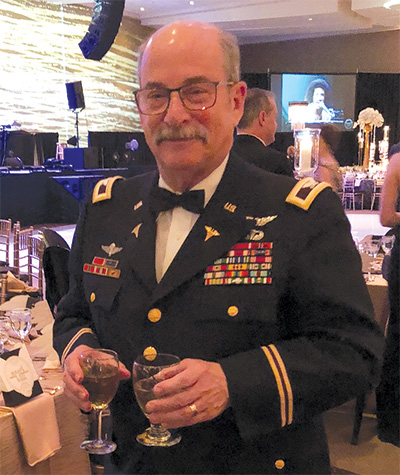 In January, the Pearls left Peoria to be closer to family in suburban Cleveland, specifically to Rick's daughter from a previous marriage, Amanda, and their three grandchildren. Emily has joined them. Another daughter, Sarah, lives in Colorado.
He's had some health challenges, and he credits his wife of nearly 32 years with getting him through it: "She's better than I deserve."
He is not fully retired but has time to reflect on a lifetime of accomplishment, even if not as much as he'd have liked. 
"Your legacy is who you've touched. The children you've cured. The people you've trained," said Pearl. "It's not the buildings. It's the people, stupid."  
He'll tell you that he had the two best jobs in the military – flying in combat and running a combat hospital – and the best job in medicine. "What I did in Vietnam was very analogous to what I did as a surgeon … making sure that Bill and Joe and Charlie would get home to their mom at the end of the day."
Still, he never felt as if he quite "fit the mold," as a soldier or doctor. "I was always shaking the cage a bit.
"I just believed certain things were right, and certain things were wrong, and you had to stand up for what you believed was right. In modern-day America, that's not the way to be sometimes. That's OK. I have to get up and look myself in the mirror …
"At times I really did get myself in a pickle, I must say." 
For many, it seems, all is forgiven. This time, they get the last word.
"From the first time I set eyes on Dr. Pearl, interviewing him as he was considering an offer to come to OSF … I loved that man!" said Sister Judith Ann. "There was something very special about him, even as he sat there, pointing his finger at me and demanding that I promise him we would build a new children's hospital. … I told him to come on board and help us make it happen. 
"He was a tiger right from the start, driving such unbelievable accomplishments … How can I not love that man?"
"Dr. Pearl's tenacity is only surpassed by his compassion," added Mike Wells, president of Children's Hospital. "I'm honored to have served alongside him."

Finally, "Dr. Pearl has been a visionary and mentor to the DiSomma family," the latter said in a statement. "Dr. Pearl, you are one in a million … We are so grateful to have you in our lives."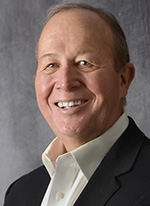 Mike Bailey is editor in
chief of Peoria Magazine.