Legend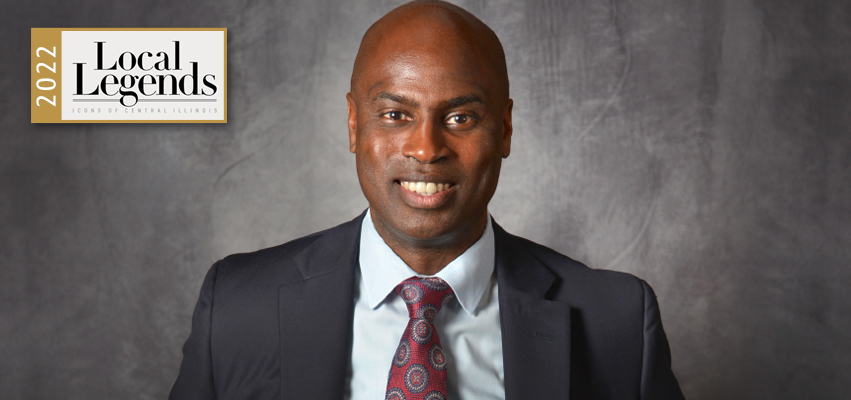 Chris Reynolds doesn't dwell on the past. 
"You can't live life looking in the rearview mirror. You have to keep moving forward," he says.
It's a pragmatic stance by the vice president for intercollegiate athletics at Bradley University.
Reliving glories of a triple-overtime state basketball championship game or a trip to the NCAA Final Four doesn't pull your department through the COVID-19 pandemic. Agonizing over cruel outcomes (Reynolds' teams at Peoria High School and Indiana University lost those big games in heartbreaking fashion) serves no purpose 30 years later.
Still, the past is important. Our lives are shaped by fleeting moments, big events, success, failure and, most importantly, how we react to all of that.
Reynolds recalls a moment when he was a boy, not but 10 years old. His father, Ralph, was a Caterpillar, Inc., foreman who frequently had to represent employee concerns to management. Ralph would prepare by reciting his main points in front of a mirror. On this particular day, father turned to son and said, "If I had it to do over again, I'd go to law school."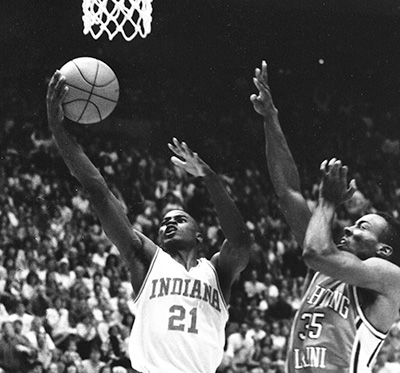 Fast-forward a decade or so. Chris was the starting point guard at Indiana, riding the team bus to an NCAA tournament game. Coach Bob Knight sat next to him and asked what seemed a strange question for that time and place.
"Chris, what do you want to do when you're finished playing basketball at Indiana?"
The first thing that popped into Reynolds' head was "I don't know." That was not something you say to Coach Knight. So Reynolds fell back on his father's self-reflection and replied, "I think I may want to go to law school."
A few days later, as the Hoosiers were preparing for the next round in their march to the 1992 Final Four, Knight pulled Reynolds off the practice floor and introduced him to Harry Pratter, a law professor at IU for more than 50 years.
Pratter encouraged Reynolds' educational and life choices. As did Knight. As would Dr. Bill Wiggins, who had co-founded the Afro-American Studies program at Indiana.
Reynolds went to law school, where he met his wife, Katrina. By the time he got his degree, though, he knew that being a trial lawyer or working in a corporate setting was not his future.
"I didn't care where I worked, I needed to be around young people and try to be an influence in their lives," he says. "Where are young people? College campuses."
Sports provided a natural setting for Reynolds. He interned at the NCAA, the governing body for intercollegiate athletics at 1,100 schools, then took a job at Michigan State. He quickly ascended the administrative ranks through subsequent stints at Western Michigan, Notre Dame, Indiana and Northwestern – earning his PhD at IU along the way – before Bradley coaxed him back to Peoria in March 2015.
"I say this with every sincere bone in my body: Peoria is the best place I have ever lived," Reynolds says. "It's a tremendous place to raise a family. It's the most connected place I've ever lived. People in this community care. The number of fundraisers and not-for-profits in this town, where people just want to help, is very unique.
"Unless you've been away a long time, it might be hard to really appreciate what we have here. But this is unequivocally the best place I've lived."
Before accepting the job, though, the Reynolds family had some serious discussions. Katrina, who also has a law degree, was an assistant dean of students at Northwestern. Together, they determined she would take a timeout to work as a full-time mother to Joshua, now 18 and a graduate of Richwoods High School, and Olivia, 15, who will be a sophomore there this fall. 
"No way could I do this without Katrina," Chris says. 
He talks easily about family and teamwork, as you might expect from a former point guard and captain for a Big Ten championship team. But Reynolds, now 50, is more than the words he so carefully shares.
"He is genuinely concerned about everyone in our department – more than 60 employees and 220 student-athletes," says Craig Dahlquist, senior associate athletics director at Bradley and, after 38 years, the longest-tenured member of the department. 
"He's equally concerned about your professional and personal growth. He's always making sure we're taking care of ourselves and our families. He would much rather we not be in the office – if necessary, taking care of our wives, sons and daughters – than being distracted in the office."
Jennifer Jones is senior associate athletics director and also senior woman administrator (SWA) at Bradley. A wife and mother of five, she joined the staff in 1999.
"I am the only SWA in the Missouri Valley Conference who is married with children. There's something to be said for that," she says. "Chris recognizes the challenges that go along with college athletics, but he's also very supportive that we take care of the home front first."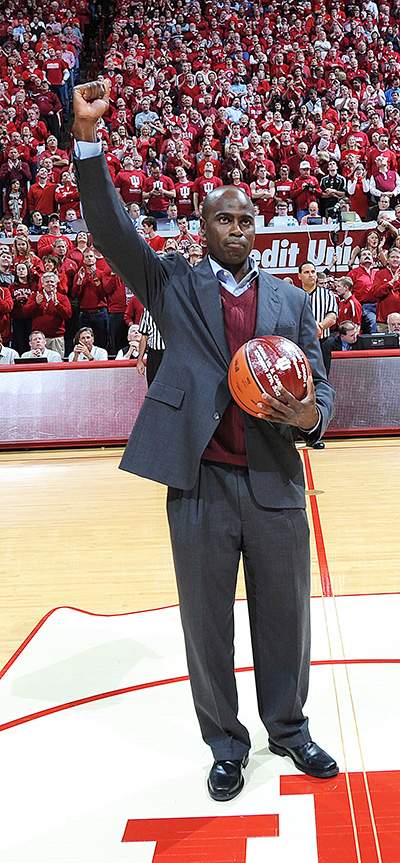 Dahlquist and Jones both describe Reynolds as "really smart" and collaborative. 
"And his resume is practically mythical," Jones says.
That resume grows even more so as of Sept. 1, when Reynolds officially becomes chairman of the NCAA Division I Men's Basketball Committee. The 12-person group not only selects the teams and seeds the tournament field for March Madness but also vets and chooses future tournament sites, evaluates game officials and works throughout the year to plan and stage tournament events at 14 venues every spring. Reynolds joined the committee in 2018 and last year was voted to the chair by his peers.
"He has such professional integrity and incredible intelligence and work ethic," says Dan Gavitt, senior vice president of basketball for the NCAA. "He's a great listener, very thoughtful, very principled. He's measured in meetings and doesn't speak frequently. He values other opinions and draws them out. He makes sure every voice is heard. And when he does speak, his voice carries a lot of gravitas and gets everyone's attention because he's so well-respected. When he offers his opinion, it's not a reaction; he has put deep thought into it. He's a great leader from that standpoint."
Under Reynolds' leadership, Bradley athletics have enjoyed competitive success pretty much across the board.
Pre-pandemic, BU men's basketball qualified for the NCAA tournament in back-to-back seasons for the first time since 1954 and 1955. Women's basketball won the MVC tournament and earned its first NCAA bid. Men's golf won its first Valley championship, and the men's and women's cross country program has become the conference gold standard. In all-sports standings, Bradley climbed out of the MVC cellar and in 2018-19 ranked fifth – tops among the private schools and its best showing since 1987-88.
The challenges facing Bradley athletics are significant. New rules allow student-athletes to earn money off their name, image and likeness, and Bradley lacks the resources to arrange six- or seven-figure financial deals available to athletes in the "power conferences." More lenient rules governing transfers also make it difficult for schools like Bradley to hold onto budding superstars. The future of intercollegiate athletics outside those few dozen "power" schools is fraught with questions and doubt.
But Reynolds remains optimistic and draws on his academic foundation to explain why. 
"Our vision, our mission, is to develop leaders of tomorrow and champions in life. Sports is just a tool to help instill qualities that will help these young people not just for four years, but for the next 40. If you go at it from that perspective, winning becomes a by-product. Bradley is a great place to do that."
He recalls Donte Thomas, a basketball player finishing his freshman year when Reynolds was hired at Bradley. Thomas was one of only two players to stick around when Reynolds hired Brian Wardle to replace Geno Ford as men's head coach in 2015. The player was talented but troubled. Reynolds brought Thomas in and set down the guidelines necessary to continue at BU: Clean up your life, get your education, learn personal responsibility.
"Donte looked me in the eye and gave me the most mature response I ever heard a young person give: 'I want to do better, I just need help,'" Reynolds says. "He craved discipline and direction and our coaches and professors and staff gave it to him. Three years later, Donte Thomas graduated from Bradley.
"And that's why I do what I do."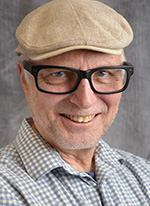 Kirk Wessler is a former newspaper sports editor who
has turned his attention in semiretirement to a
new passion as a singer/songwriter.