Legend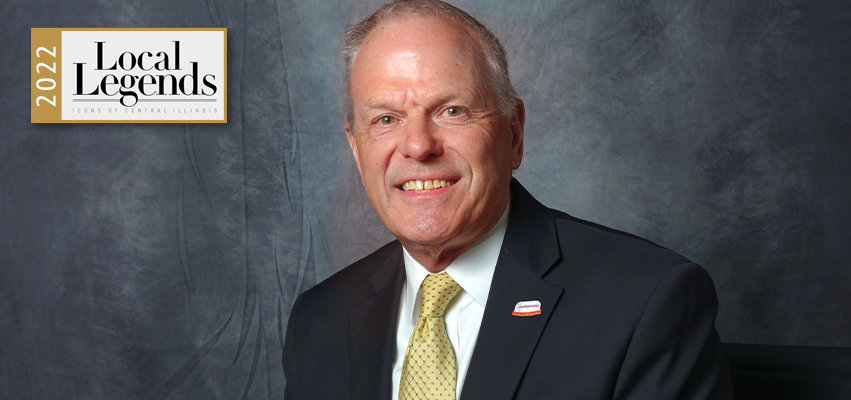 It's almost impossible to think of Easterseals Central Illinois without thinking of Steve Thompson. 
For 42 years, he has helped lead the organization, touching the lives of thousands of children and their families.
On Aug. 31, Thompson will retire as president and chief executive officer of the nonprofit that provides specialized pediatric therapy services to children with developmental delays or disabilities and other special needs, from birth to age 21.
Last year alone, Easterseals served more than 5,000 central Illinois families – totaling 36,000 hours plus of specialized therapy – at its headquarters in Peoria, its service center in Bloomington, and its Timber Pointe Outdoor Center on Lake Bloomington in Hudson. In all, the organization reaches into 50 Illinois counties.
When Jon Michael, immediate past chairman of the Easterseals Board of Directors and chairman of RLI Corp. in Peoria, was asked to name Thompson's most admirable qualities, he didn't hesitate.
"He's a genuine person. He's caring. He's a word-class leader," Michael said. "Steve is Easterseals in central Illinois. He's an iconic figure in Peoria."
WHERE IT ALL STARTED 
Thompson grew up with two brothers and a sister in Grandview, Missouri, in the southern suburbs of Kansas City. 
After receiving a bachelor's degree from Missouri State University, Thompson attended graduate school at the University of Illinois Urbana-Champaign. While his brothers went on to careers as a naval aviator and Air Force pilot, he "stayed really close to the ground," finding his calling while coaching wheelchair athletes as a graduate teaching assistant. 
"From there, I had a growing sense that this is where I wanted to make my career, helping people with disabilities and others to reach their full potential," he said. "I really think the genesis of it was at the U of I."
That same mission continues to drive Thompson and his wife of 41 years, Morene "Mo" Thompson.
"We just have the belief that children deserve the best," he said. "A lot has changed in the nonprofit sector, the health care sector and certainly at Easterseals over 40-plus years, but what has not changed is that our passion for children remains as strong as ever.
"At Easterseals, we've made a simple promise over the course of 100 years, and that is the promise of progress," he said. "We see kids … reaching milestones. That's a joy that's the same as it was over 40 years ago."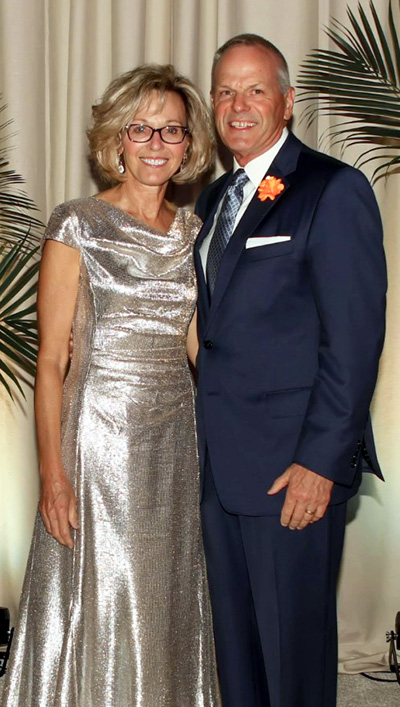 FOCUS ON THE FAMILY
The children of Easterseals are all part of Thompson's extended family.
Daphne Fay, whose son, Hayden, 12, received services at Easterseals for five years and is now an agency ambassador, described Thompson as a cheerleader.
"He leads by example. He attracts energetic, inclusive and positive employees," she said. "Every single person who works at Easterseals fulfills that mission and that's what makes Easterseals so successful."
The Thompsons' dedication extends to their own large immediate family.
They already had four biological children when they began adopting in 1994 with the addition of two brothers. That was followed by two sisters a little more than a year later, and then by five siblings from an orphanage in southern Brazil in 2001. They rounded out their family in 2006 with another group of five Brazilian siblings.
In all, the couple has 18 children ranging in age from 20 to almost 40, with almost 30 grandchildren.
Thompson credits his wife for managing their large family and rural Tremont homestead.
"At one time we had 14 kids under one roof. Imagine the likelihood of all 14 getting up 'on the right side of the bed,'" he said, chuckling. "I often say my wife could run the Pentagon."
There were chore charts and structured meal and bed times.
Today, looking at retirement with children scattered across the country, Thompson jokingly said he and Mo can travel and "mooch" off the kids without having to purchase an RV.
THE POWER OF PHILANTHROPY
Easterseals has a diverse funding stream – from private insurers and foundations to state funding for early interventions, grants, contributions from individuals and organizations, and philanthropy. The latter makes up about 30 percent of its funding.
"Easterseals has grown so much in the last 40 years. The entire budget in the 1980s … might have been $500,000. Today, we have a $14 million annual operating budget," Thompson said.
The well-known annual telethon, which began in 1975 under John Bearce, who led Easterseals prior to Thompson's tenure, raised millions for the organization before it was retired in 2020.
Easterseals now focuses on an annual Community Rally, a week filled with events to support its mission and vision. The latter is about embracing a community that is "enriched by the diverse contributions of children who, from their very entrance into this world, are 100% included and 100% empowered."
Philanthropy is about more than raising money. Philanthropy, Thompson said, comes down to being a lover of humankind.
"Ultimately, it's about helping people do something they feel (is) important in their heart," then assisting them in finding "the right vehicle to make … a measurable impact on someone's life," he said. "Central Illinois, Peoria in particular, has been a remarkably generous community."
"He is able to get other people passionate about his vision, and in doing so he's been able to expand services," said Daphne Fay. "There's no child left behind at Easterseals Central Illinois."
A COVID-19 PIVOT
In November 2019, Easterseals held its Century Ball to celebrate its centennial year and launch its biggest fundraising campaign in three decades. 
Major improvements from the $11.5 million campaign were to include expanding the organization's autism services; launching innovative efforts like The Alex Program, a first-in-the-region cerebral visual impairment program; leveraging more technology-enabled care; growing the endowment; and investing in best-in-class facilities. 
The latter includes upgrades in Peoria and Bloomington, including completion of the new YMCA on the campus of OSF HealthCare St. Joseph Medical Center, to which Easterseals clients will enjoy full access. 
"This collaboration with the Y is unprecedented and I believe it will be a model for the nation," Thompson said.
The COVID-19 pandemic almost knocked all of that "off the rails. … But it was because of the campaign that we were able to continue to serve our families," said Thompson.
While in-person services came to an abrupt halt during COVID, Easterseals set up telehealth therapy services. Within weeks, the agency was seeing 72% of its clients.
"As devastating as the pandemic has been, it forced us to do other things … that typically would have taken years," Thompson said. "Telehealth will continue to be a tool in our toolbox. A lot of innovative things occurred."
The duration of the fundraising effort was extended and now is expected to wrap up by this fall.
"It's very important to me that we successfully conclude the Centennial Campaign," Thompson said. "I want to check that box before I go."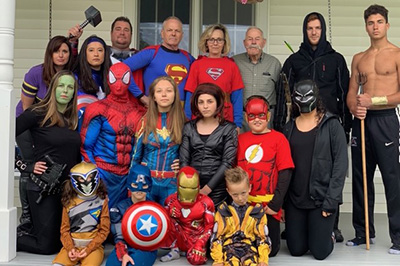 LEGACY AND RETIREMENT
For the past 32 years, Easterseals has held a Tribute Dinner each September to recognize its most dedicated contributors. This year, Thompson and his wife will be honored.
While they were "a bit reluctant" at first, the Thompsons now see it "as a great opportunity to celebrate the company, but also an opportunity to publicly pass the baton," he said. "It's not necessarily closing a chapter, but launching Easterseals into what's next."
"His legacy is leaving behind the best run not-for-profit entity … in central Illinois," said Michael. "It's going to be very difficult to replace that. He's tireless  … just a great leader, a great person."
"We think his legacy is one of inclusion and optimism," added Fay. "One of the things I like to tell people is that the families that come to Easterseals, we know that we're different from everyone else and it can feel very isolating. And there's a lot of judgment out there. 
"We've never felt judged for who we weren't that day we walked through the doors the first time," Fay said. "We felt loved for who we were in the process of becoming. For me that comes from the top. You feel it the moment you walk in the door. He is so optimistic for the future of every single child there. There is nothing that those kids can't do in his mind."
As he prepares to exit, Thompson remains as passionate about the mission as ever, but he insists "it's really about perseverance … Quite frankly, I just stayed at it. There's a lesson for everybody." 
Meanwhile, he and Mo will continue to stay at it for central Illinois' children in some form. 
"We're kind of anxious," he said, "to see what the Lord has for us next."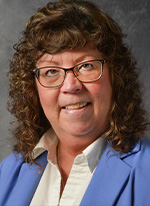 Lisa Coon is a Peoria native who had a long career
in the newspaper industry before moving into
marketing and communications