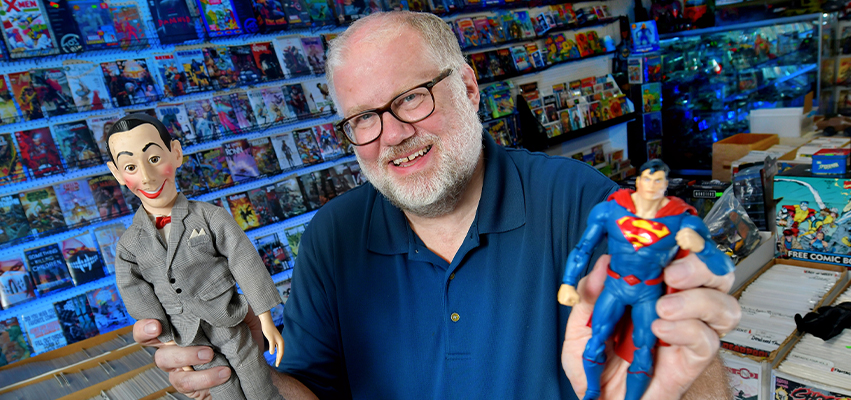 Bob Gordon, owner Acme Comics
As an independent operator, Bob Gordon has learned an important business lesson: "The chains always catch up to you."
But in fact there was always competition, even before the major retailers loomed as adversaries. When Gordon opened Acme Comics in 1991 at the corner of Main and University streets in Peoria, where One World restaurant now sits, there were 11 other comic-book outlets operating across central Illinois.
Looking to supplement his comic book sales, Gordon began selling coffee mugs and T-shirts. Then Walmart began offering mugs at less than what Gordon paid wholesale.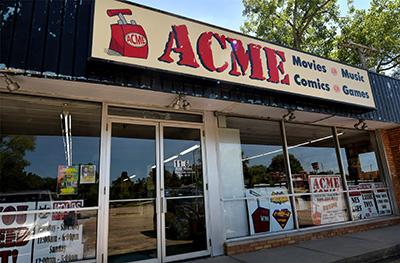 With his little shop now located at 2218 W. Glen Ave., Gordon reflected on other efforts to stay relevant and in business over the years. Sometimes a supplier will give you a temporary advantage, he said. "When the 'Titanic' movie came out in 1997, I was able to acquire posters through a company overseas. I sold thousands … before they became available elsewhere," he said.
After Gordon turned to Batman toys as a sideline, soon "everyone had Batman toys," he said. While continuing to stock the latest comic releases, Gordon shifted into used merchandise — comics, records, toys, vintage video games. "Chains can't duplicate that," he said.
When the internet grew into a sales monster, Gordon had to confront that threat, as well. "The internet is a double-edged sword," he noted, adding that Amazon decimated his graphic novel business with prices initially 40 percent below list. "Once EBay got rolling, store competition didn't mean anything," he said. The online shopping site "became the instant price guide for everything. One store can't price something $30 higher than what it's priced on EBay," he said.
Now 61, Gordo recalled taking his comic books on the road, setting up comic flea markets, often with a celebrity attraction to draw people in.
"I used to do as many as 30 shows a year, traveling all over the United States. But after 10 years I was done," he said.
Having done "a ton of business" in used DVDs and CDs over the years, Gordon saw that market dry up "once Napster became legal," pointing to the public's adoption of internet music sites. Acme Comics still carries old DVDs and CDs but what they bring in "barely cover my utilities," he said.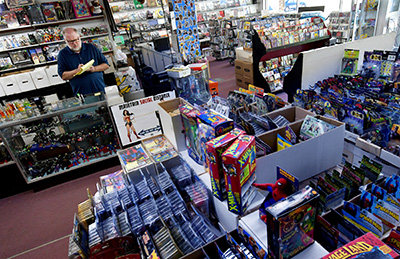 Like other brick-and-mortar retailers, Gordon said he's had to adjust to the retail realities accompanying the internet age. "My sales are probably down 60 percent across the board from the '90s. That's just the way the world is," he said.
"The name of the game now is to find what you can do that others can't. One answer for me is serving as an information center. Customers like spending 15 minutes a week here. They're among friends. It's like TV's 'Cheers.' I know most of the folks who come into the store. They know they can be themselves in my store," he said.
The fact that most of today's movie blockbusters are based on comic heroes doesn't surprise Gordon. "It's nothing new. People probably don't recognize it but they've been watching material from comic books all their lives," he said.
Media has always pushed comic heroes, said Gordon. "Superman got popular through radio and TV. Batman was popularized by the '60s TV show while the Fantastic Four found an audience on Saturday morning cartoons," he said. "In the '70s, Hulk and Wonder Woman got a push."
In recent years, movie producers have harnessed new ways to promote comic stars. Gordon points to "Star Wars" as the movie that really figured out merchandising. "('Star Wars' creator) George Lucas designed action figures that fit in the hands of a kid," he said.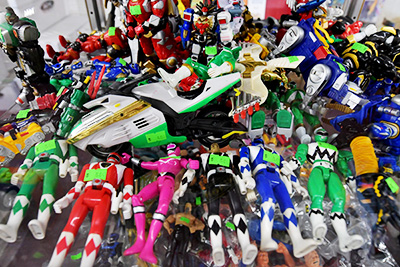 Despite the success of the respective Marvel and DC Universes, the two major comic book companies tend to stay with old favorites, said Gordon. "My biggest seller is Batman but, depending on the artist and writer, Spider-Man, Hulk and Thor remain popular," he said.
"Superman readers are unique. DC can't tinker with him a lot," said Gordon. As for new faces, he listed Harley Quinn, Deadpool and Punchline, "but in recent years, new characters don't go anywhere," he said.
That applies to Bob Gordon, too. He's not going anywhere. Despite all the changes and challenges, he knows what's important: "I know the comics come out every week."
Steve Tarter is a Peoria Magazine contributor who was born in England, raised in Boston, moved to Peoria to attend Bradley University and decided to stay. He has spent a career in journalism and public relations.