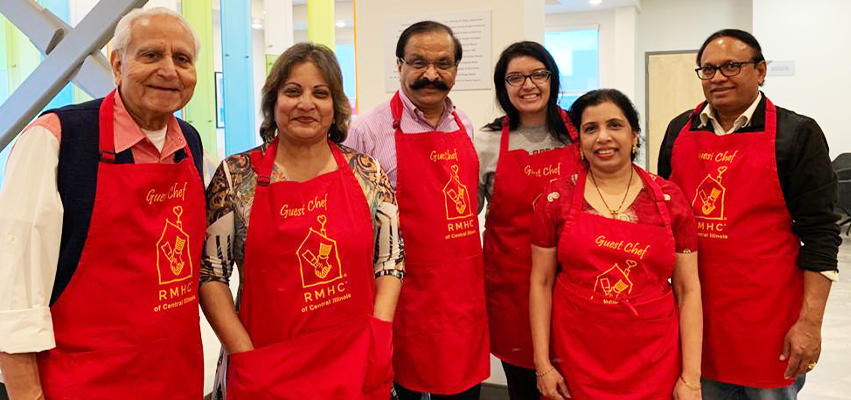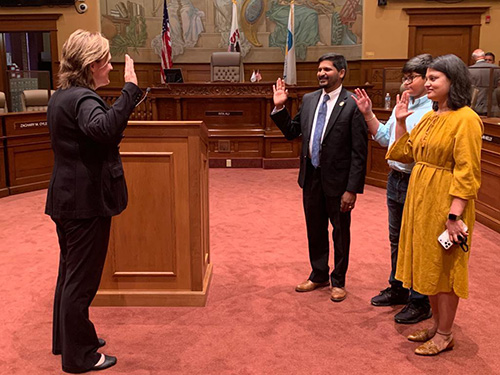 Dr. Kiran Velpula, cancer-fighting researcher by day, Peoria city councilman by night, tells an interesting story about how his family arrived in Peoria 14 years ago.
He and his wife, Swapna Asuthkar, both of whom grew up in southern India, had found themselves in Cleveland, working in health care there but feeling very alone, when Peoria, Illinois, of all places – specifically the University of Illinois College of Medicine (UICOMP) here – came a calling. 
First, they were attracted to Peoria by good jobs that stretched them — both as assistant professors of cancer biology and pharmacology at UICOMP — with competitive pay. They discovered a thriving Indian/Asian community here and suddenly had a social life. Central Illinois' cost of living was eminently affordable and the quality of life was high, with cultural activities to spare and the ability to get just about anywhere they wanted to go within 15 minutes. Their neighbors were welcoming. 
"I used to make a funny statement: If you close your eyes and throw a pebble in Peoria, you hit an Indian fellow. That's how many Indians were here," said Velpula. Nearly 9,000 miles away from where he grew up, Peoria is where he wants and intends to stay.  
Velpula owns a Ph.D. and MBA and is emblematic of many who have migrated from India – highly educated, entrepreneurial, driven, happy to be in central Illinois and optimistic about its future. And they have made and are making a significant imprint.
First, the Asian-Indian population of Peoria has grown dramatically over the years, from about 3.8 percent of the city's residents in 2010 to more than 6 percent in 2020, totaling nearly 7,000 people. That number continues to climb and become more diverse. 
The original pioneers began migrating here in the 1960s, some to teach at Bradley University before moving into medical, engineering and computer software positions. Today they are a who's who of local Asian American achievement, with names like Bhandari, Shah, Banargi, Raman, Chatrath, Kalayanraman, Samir, etc.
They are a significant presence in area hospitals and clinics, said one such, Dr. Kamlesh Macwan, who arrived in 1994 and has operated a neonatology practice here since. 
They are CEOs — such as Seshadri Guha, chief executive and founder of TADA Cognitive Solutions and chairman and managing partner of CGN Global – and entrepreneurs, such as Sudheer Sajja at Pringle Robotics. They are hotel/motel operators and store owners such as Sanjay Bhai at Swagat Food and Grocery. Meanwhile, some have entered politics. Velpula is an at-large member of the Peoria City Council. Congressman Raja Krishnamoorthi grew up in Peoria – where his father taught at Bradley – and now represents Illinois' 8th District in the Chicago area.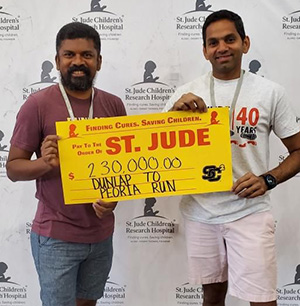 They have formed their own organizations – the Asian Indian Community Collaboration of Peoria (AICCP, aiccp/web.org) and the Indo-American Society of Peoria (IACP), for example, with the goal of educating others about their culture and, increasingly, giving back to central Illinois through acts of philanthropy and volunteerism. 
Indeed, August – which marks the 76th anniversary of Indian independence, on Aug. 15 — is a very big month in Peoria's Indian-Asian community. 
India Fest is to be held Aug. 14 on Peoria's RiverFront, featuring traditional Indian music and dancing, authentic Indian cuisine, shopping opportunities and even an always spirited cricket contest. 
Meanwhile, the annual Passage to India fundraiser for Easterseals is to be held on Aug. 5, having generated more than $4.5 million to help children with disabilities over the years. There is a Mahatma Gandhi Conference Room at Children's Hospital of Illinois. Other beneficiaries of the Indian community's largesse include St. Jude, Ronald McDonald House, Neighborhood House, Carver Center, Peoria Public Schools, and multiple STEM (Science, Technology, Engineering and Mathematics) programs at schools across the region. 
Today, it is far easier to emigrate to the United States and specifically to Peoria than it once was, when this seemed like "the final frontier" and individuals and families from very far away had to muster the courage and the resources to pretty much fly solo. Many American businesses and universities now have a physical presence in India. Those who paved the way and now lead organizations such as AICCP and IACP provide considerable assistance helping with the transition, including food, shelter, jobs, education and citizenship classes. 
And it can be a transition. 
Macwan, who hails from Ahmedabad, India, remembers the first time he landed at O'Hare International Airport in Chicago. The first thing he noticed was that "the trees did not have any leaves," as it was November, and suddenly he wished he had a jacket. He thought, "What country did I come to?"
Meanwhile, no matter how fluent their English, some things still got lost in the translation, such as when a shopkeeper would ask, "May I help you?" Macwan remembers thinking, with a laugh now, that "I don't need any help. I'm OK." 
And the food, of course. Let's just say that sometimes spice is nice. 
Nonetheless, "If you make a little attempt … you discover that underneath that outer shell, we're all the same," said Macwan, for whom the appeal of life in this country remains strong. "We look at the American culture, American values … 

The first thing that attracted me was that you could be whatever you want to be." 
Still, he was surprised at the reaction he got from colleagues in Chicago when he told them he was moving downstate. "People asked me, 'Why are you going to Peoria?' like Peoria didn't exist. 
"Everybody who comes here says, 'We'll try it out in Peoria for a year or two. Then Peoria grows on you so significantly" that it becomes 20, 30 years. "This is like a hidden gem. When I came here, I never wanted to be anywhere else."  
And he, like many others, remains bullish on Peoria. 
"You can get the reward of a (medical) practice … without the tension of a practice," Macwan said. "Your family life is much better here. You can raise your kids, go to their practices and school events. And the traffic is never in question."
"Peoria is a small town but has a big town outlook," added Srinivas Vuppuluri, who is "happily retired" after a career in the university classroom and at Caterpillar as a software project manager, here since 1999.
As to the old saw of "Will it play in Peoria," Vuppuluri said "it is playing here. Peoria is on the edge of some major success," with the Indian community ready to help make that happen, in education, in economic development. 
"We have a positive regard for Peoria. We appreciate Peoria for the home it has given us," he said. "There are issues but … it's a good place to grow." 
It certainly has been for Velpula, who brags the kind of résumé that is in demand and who has had opportunities to leave – for Los Angeles, for Minnesota's Mayo Clinic, for Harvard in Massachusetts. 
Alas, he built a family – which includes son Jai, 14 – and a program here, teaming up with Dr. Andrew Tsung, an OSF neurosurgeon, to develop the Velpula-Tsung Laboratory at UICOMP, where they work on groundbreaking gene therapies to defeat cancers. And the med school stepped up when he was on the fence about a move.
"The community … had trust in me, my abilities, and my dedication to what I do … That is the beauty of Peoria. That is why we stayed … and why I want to give back," said Velpula. 
"This is home. I can't go anywhere else … This is where I want to live the rest of my life."
Mike Bailey is editor in chief of Peoria Magazine.