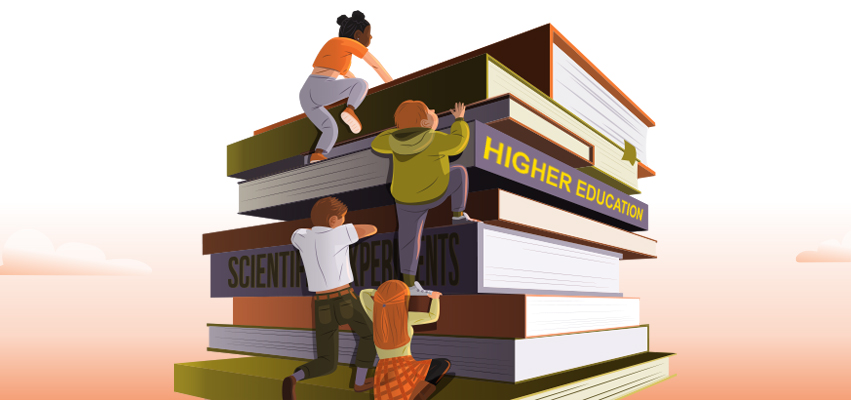 As college enrollment has plummeted nationally, area higher education leaders have taken note — and taken action.
Undergraduate enrollment nationally has declined by more than 662,000 students — 4.7% — from spring 2021, according to a report released in May by the National Student Clearinghouse, a nonprofit that collects education data for U.S. colleges and universities. Altogether during the pandemic, the number of undergraduate students shrank by nearly 1.4 million. Plus, graduate and professional-degree enrollment declined by 1 percent over the last year.
Even before COVID-19, college enrollment had been dropping, as would-be students pondered whether traveling the scholastic route – nowadays pockmarked with college-debt horror stories — still provides a solid payoff.
Locally, Bradley University, Illinois Central College and Eureka College have been rethinking how to attract and keep young people who more and more see career paths that forgo traditional campuses.

Bradley University
Bradley President Stephen Standifird subscribes to the view that colleges have caused their own enrollment problems. Historically, degrees had been earned in a seller's market, so colleges did little to assess the needs of students. 
"The idea of constant demand has changed, I think forever," he said. "When you're in constant demand, you can get sloppy in designing what you think is right."
At Bradley, undergraduate enrollment has dipped 3 percent since 2018. However, enrollment has leveled off over the past two years, including in the incoming freshman class, which totals 1,040.
Beyond enrollment loss from the pandemic, students have become more finicky regarding college choice, said Standifird. Two newer considerations have emerged, he said: Students want a welcoming and inclusive environment, plus a post-college trajectory that includes a "life of impact." 
Both concerns have prompted Bradley to begin developing a new mentoring program to better guide students from freshman enrollment to graduation day. 
"It's not career planning," Standifird said. "It's life planning."
For example, one step would involve more comprehensively helping students choose a major, not necessarily by academic discipline but according to their interests and abilities. The approach is less about what students want to be than what they'd like to do. And if an undergrad's interests wander, Standifird wants degree paths to be more flexible to accommodate change within a reasonable graduation time. 
Along the way, college costs can become an issue, even more so for students who feel adrift and disconnected. For students plugged into campus resources, BU can often help with financial assistance.
"It's findable," Standifird said. 
Meanwhile, a common higher-ed metric is the six-year graduation rate, which nationally is 57.6% — a figure that sparks a shake of Standifird's head. 
"Find me another industry where you're OK if you fail 40 percent of the time," he said. "Would you want a doctor who fails 40 percent of the time?"
BU's six-year rate is 76 percent, but the school is aiming for 90 percent.
On the immediate upside, the school's graduate programs are growing, with enrollment doubling since 2018. Right now, BU has 4,200 undergrads and 1,200 graduate students, with many of the latter taking courses online, especially in nursing.
"I foresee the day when the undergraduate and online numbers rival the undergraduate numbers," Standifird said. 
Meantime, the school's endowment is solid, rising from $313 million in 2017 to $350 million today.  
"I'm expecting it to grow in the years to come," Standifird said.  

Illinois Central College
ICC administrators learned a lot from the pandemic, including how to better attract and teach students.
When the virus hit the U.S., conventional wisdom held that community colleges might prosper, given relatively low tuition costs and more people at home with time on their hands. That didn't happen.
Community colleges nationally have lost 827,000 students since the beginning of the pandemic. That first year, ICC saw enrollment plummet 20 percent.
The problem? In part, there has been a learning curve as teachers adapt to online delivery. 
"We might not have been very good at doing it," said Bruce Budde, ICC's senior vice president of administration and finance.
Students also needed to adjust to online classes. But as interactions have grown more solid on each end of Zoom classrooms, ICC officials believe hybrid modalities – in-person, online, or a combination of both – are key to the school's future. The flexible approaches will better allow the school to meet the different needs of a diverse student body, said Budde. "I think it's going to be key in knocking down barriers."
That might be why last year, though ICC still saw enrollment drop 9 percent – to 11,132 students — the dip was less than half that of the previous year. Further, despite the enrollment challenges, ICC's endowment has risen from $22 million to $32 million over the past five years.
Moving forward, ICC is further seeking to meet student needs at their most basic levels, including bolstering on-site daycare for student-parents. The school also assists with finances. In-district tuition — ICC serves all or parts of the counties of Peoria, Tazewell, Woodford, Bureau, Logan, Marshall, Livingston, McLean, Stark and Mason) is $155 per credit hour.
Meantime, non-credit programs that offer certification in vocational training are flourishing. 
"They need something past high school," said Kim Armstrong, ICC's vice president for marketing and institutional advancement. Some of the programs offer earn-while-you-learn stipends, with ICC adding 1,200 students there in the past two years. "We can't train welders fast enough," said Armstrong.

Eureka College
Eying national enrollment declines, Eureka College has been pushing for a better bang-for-the-buck experience, said school President Jamel Wright.
The approach has multiple prongs. One involves understanding that the threat of college debt looms large among would-be students.
"Consistent with national data, we have seen more low-income and first-generation students deciding to take gap years or to forego college altogether," Wright said.
A key initiative has been Eureka Promise, a tuition-free program for low-income students living in Illinois.
"We are the only private college in the state of Illinois to offer such a program," Wright said. "Eureka Promise is one example of our commitment to explore and implement better pricing models that better meet the needs of our students."
Meantime, the school has frozen tuition for incoming students, so their year-to-year cost is more predictable. To cover its costs, the college has increased its focus on non-tuition revenue, such as grants. Meanwhile, Eureka's endowment has grown from $20 million in 2013 to almost $38 million today. 
The school declined to disclose its recent enrollment figures, though U.S News reported that the fall 2020 figure was 511. This fall, the school is expecting a 20 percent boost in freshman enrollment, Wright said.
The college's enrollment dropped from 567 in 2018 to 476 in 2021. School officials expect more than 500 students this fall, with a 20% boost in freshman enrollment alone.
One major push has involved what Wright calls the "value proposition of earning a college degree," with the school reaching out to employers to learn their needs for new hires.
"There continues to be a strong need, in some fields, for a college degree," Wright says. "That said, Eureka College has made dramatic curricular changes to ensure we are focusing on students' mastery of key, transferable skills that reflect employer needs and are helping students to better connect the dots between college, career and life skills."
To that end, the school is offering more flexible degree-completion options, including three-year programs and remote-only curricula. 
Meanwhile, the school is emphasizing financial responsibility.  
"Eureka College has also been intentional in developing initiatives and providing resources around financial literacy to better educate families about the financial aid process, the difference between grants and loans, as well as loan repayment and budgeting," Wright said. "Most important is Eureka College's message encouraging students to only accept the minimum loan amount needed for their education."
Phil Luciano is a senior writer/ columnist for Peoria Magazine and content contributor to public television station WTVP.