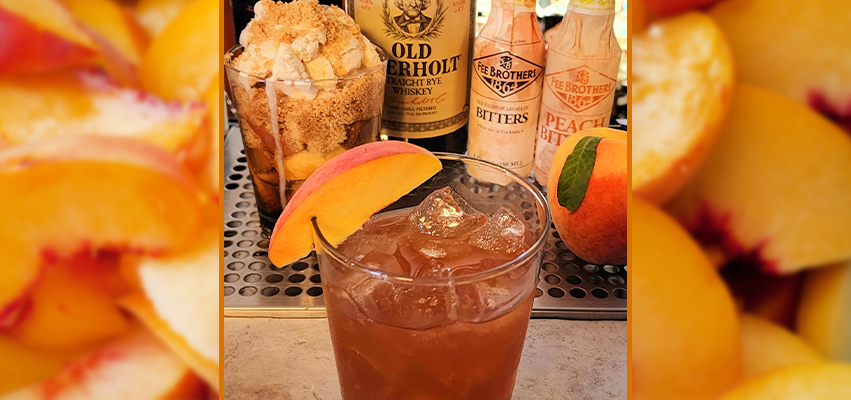 Time to sip through the rest of summer with this spiced and stirred variation of an Old Fashioned. The cobblers and apple pies of childhood may jump to mind. At least it did for me! There is a bit of preparation for this cocktail, but the results are well worth it!
This is the first stirred cocktail in the Mixology 101 series and you will find there is a lot less energy spent mixing this drink, which can be perfect during the decline of summer. Stirred cocktails are smooth sippers that remain clear and flavorful whether served up or on the rocks. When stirring, you will want to keep the ice spinning with jostling and tumbling, which can take a practiced hand with a barspoon. You will want to keep the back of the spoon to the outside of the ice as you stir, which makes the spoon spin in your fingers. A light hand is the name of the game for stirred drinks.
For this cocktail we need to make an infusion first, so you will need a bottle of rye whiskey, peaches, cinnamon sticks, whole cloves, a mason jar, and six to seven days. If you have a sous vide, you can speed this up to just 10 hours. 
Dice up two peaches and drop into the mason jar along with seven or so cinnamon sticks and 12-15 cloves. Pour in the rye and set aside in a cool dark space for a week. If you have a sous vide, use a BPA-free bag (ZipLock works well), expel all the air, and immerse at 145 degrees for 10 hours. After your week (or 10 hours), strain the mixture back into the bottle and label with the date and ingredients. Set aside the solids from the infusion. Also take a long nose of the fragrance, as it may bring back some memories. Your infusion is ready! 
First, the TOOLS: For this cocktail you will need a cocktail mixing glass (or a pint glass), a barspoon (or chopstick), a measuring jigger, a hawthorne strainer and a double rocks glass, which you will need to put in the freezer or fill with ice.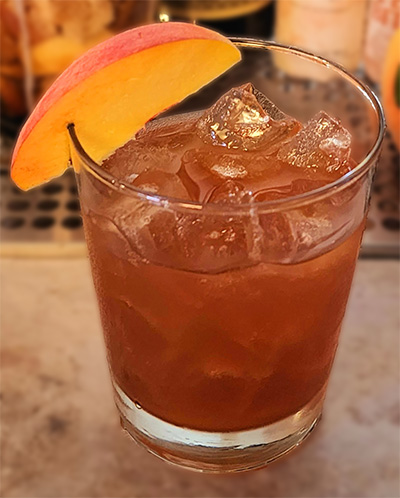 Next, the INGREDIENTS. To the mixing glass add:
1 dash old fashioned bitters
1 dash peach bitters
.5 oz. rich demerara syrup
.5 oz. spiced peach liqueur
2 oz. peach and spice infused rye whiskey
Finally, the PROCESS: Fill your mixing glass with ice and stir for 25-30 seconds. 
Make sure you have plenty of ice, well above the level of your liquid ingredients. Put your hawthorne strainer over your double rocks glass and strain out any melted water. Now place your hawthorne strainer over your mixing glass and strain into your prepared double rocks glass. Garnish with a fresh slice of peach and enjoy! 
Regarding the retained solids from your infusion, I took the whiskey-infused peach chunks and mixed them with fresh peaches and some rich demerara syrup in a glass, made some streusel topping (flour, brown sugar, butter, cinnamon) and topped with ice cream (thank you Emack & Bolio's). Whiskey-infused peach cobbler goes well with a peach-infused whiskey cocktail. Cheers!
 
About our mixologist: Dustin Crawford is co-owner – with partner Kip Rodier – of the 33 Room in Peoria Heights. Prior to that, the U.S. Marine Corps veteran traveled the world before returning home to work his magic behind the bar at various central Illinois establishments.