A Trusted and Steady Presence
Portrait by David Vernon
Both individually and collectively, Martha Herm and Tom McIntyre have been a steadying presence in central Illinois for decades—one through her tireless efforts to bring peace, healing and solace to victims of violence and abuse; the other as a trusted authority sharing the news, good and bad, to audiences on television and radio.
Martha Herm spent 26 years as executive director of the Center for Prevention of Abuse, transforming it from a small, undervalued organization into a community-wide, universal force for good. During her time at the Center, she oversaw a massive capital campaign that expanded its shelter, grew its elder abuse program and quadrupled its workforce. She has served on a number of statewide boards, including the Illinois Coalition Against Domestic Violence, and helped lead local efforts as a member of the Tenth Judicial Circuit Family Violence Coordination Council and Peoria Symphony Foundation Board of Directors. She currently chairs the board of UnityPlace, a relatively new nonprofit dedicated to meeting the Peoria area's behavioral healthcare needs. In 2013, she received the prestigious Ed Stout Memorial Award for Outstanding Victim Advocacy from the U.S. Congressional Victims' Rights Caucus.
Tom McIntyre's career in broadcast journalism began in 1966 and took off quickly—within a few short years he was a familiar face in central Illinois homes. Known as "Mac" to many, he started working at WEEK-TV in 1973 and became news anchor four years later—a position he held for decades. He was Peoria's own Walter Cronkite, but with a dash of Midwestern dry humor that was his trademark. Over the years, he walked the Peoria area through massive societal changes, including wars, strikes, political upheavals and the rise of the internet. He has earned honors and awards from the Associated Press, United Press International and Illinois Broadcasters Association, and received a regional Edward R. Murrow Award for his coverage of the catastrophic tornadoes that hit Tazewell County in 2013. Though retired, he remains part of a recurring news segment called Bob and Tom's Excellent Adventures with Bob Larson on WMBD-TV.
Married in 2011, the couple shares a love for international travel and environmental causes, and both are active in the Unitarian Universalist Church in Peoria. They are also heavily involved in the Rotary Club of Peoria, where Herm serves as Rotary Foundation chair and McIntyre is the incoming president. They continue to impact the lives of countless people, championing causes that bring equanimity and strength to those who need it.
Martha, you and Tom now live on 80 acres of the same land on which you grew up, alongside a beautiful small lake. How did your family come to own it?
Martha: My great-grandfather settled on this land, and my daughter is the fifth generation to have lived here. He came here from Germany and bought it around 1880. My dad built the lake in the late 1950s. When I was a kid growing up, all of this was pasture. We would run sheep and cattle in the field out there. I went to a one-room country schoolhouse for four years, which I own now... It's over there in the woods.
Your father, Dick Herm, was well known as a livestock agent and local TV personality. Can you tell me about him?
Martha: My dad grew up here as well and went to the same one-room country schoolhouse. This is lovely territory, but the soil is terrible—clay and gravel with gullies and woods. They realized there would not be enough income to support my grandparents and us. So, my dad ended up at the stockyards working for the stockyard company, and they asked him to do the markets on the radio for them. One thing led to another, he bought his own commission firm, and then transitioned and started doing farm markets for himself. He had a TV show for about 10 years.
He had a very dynamic personality, but your mother was also very important in your life…
Martha: My mom, Dorothy, was equally important in my eyes because she was a very bright, smart woman. She had a degree in home economics and ended up teaching part-time at Bradley University when I went to college to help pay for my schooling. She was elected to the Illinois Central College Board of Directors when it was first forming, so she was on the board that essentially built the college. She was elected president her second or third year on the board.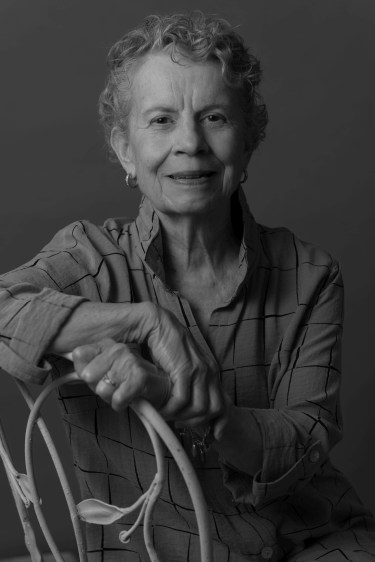 After you graduated from high school, you went to the University of Illinois and earned a degree in biology education. Where did you go from there?
Martha: I lived several places for about 10 years, and then came back to relieve my mom. I was working as the office manager. I was there 13 years… after eight or nine years, you get a little bored and you know this is not going to last forever. The marketing of livestock was totally changing, and as you probably know, the stockyards are no more. I saw an ad in the paper for Sangamon State, which is now the University of Illinois at Springfield. ICC had a class on government budgeting or something like that, and I thought it sounded interesting. Then I found out that it was part of the Master of Public Administration [degree]. I ended up getting my master's in 1988, and then we sold the business.
How did your career progress after you earned your MPA?
Martha: I thought the world would be waiting for me… it was not! Even before moving back, I had taught school; I had been a sales rep; I had done lots of different kinds of things. I was also a cooperative extension agent in West Virginia. I think people then probably couldn't translate… "Gee, she's been at the stockyards for 13 years. What's that have to do with anything?" So I applied for teaching [jobs], I applied for government jobs… but I couldn't even get an interview! For a year, I did part-time work—I wallpapered; I worked at the [Peoria] Art Guild. And then somebody there said, "Oh, I get a newsletter from the Center [Center for Prevention of Abuse, then known as WomenStrength], and they're looking for a program manager." So I applied. Long story short, they hired me to be the business manager.
When their executive director departed, you were promoted to that position. How did your for-profit experience translate into the nonprofit world?
Martha: It finally had a good purpose. It gets in your blood once you learned about everything that they're doing. I was in the right place at the right time… when the Center grew so much. The State of Illinois had just passed the elder abuse law making elder abuse, neglect and exploitation a crime—all of a sudden, your budget goes up by 30 percent! It was about the time [then Senator] Joe Biden passed the Violence Against Women Act, and now there was federal money involved. It was challenging and I loved it.
Speaking of challenges, what was the largest one you faced during your time there?
Martha: It was just making sure we could keep our doors open. The biggest challenge was that I always felt there was never enough time and money to do it right. We did a lot of things right, but it was just the possibilities of what we could do—you never had enough resources to do it. Besides keeping the structure sustainable and growing, it was also helping the community understand these abuse issues. When I first came on, everybody blamed the victim. The whole culture of domestic violence and abuse was very different. We were [labeled as] "men haters"; we broke up families; we were awful people. We had to turn that around.
How did you change how people viewed the Center?
Martha: The one thing I learned when I was working on my master's degree was that real change happens slowly—and I happen to be a pretty patient person! There are some people who are on the radical front… and that's great. We need them, but that didn't fit who I was. So I was happy to be the person coming right behind them saying, "Okay, you're helping people here… but I can also help people in a different way. I can put a plan together to make it work."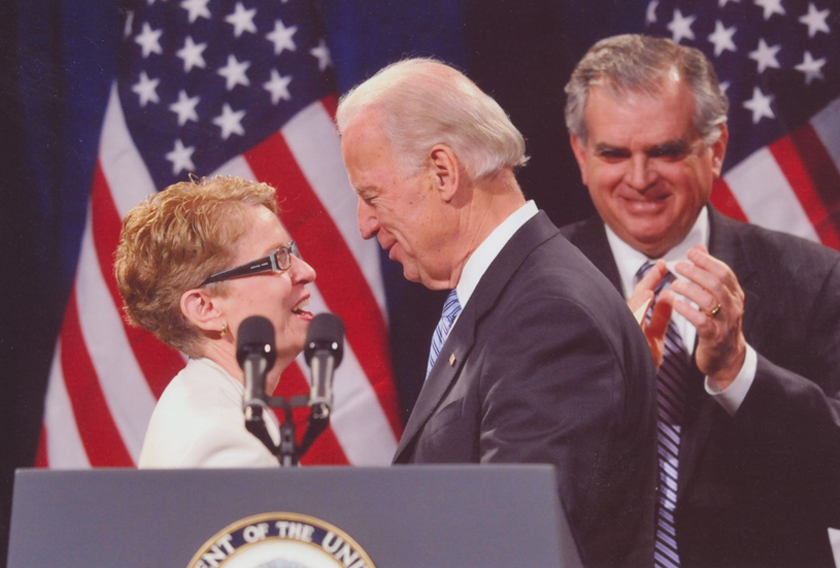 One of your top accomplishments was helping women cut through the red tape in order to get help. Can you tell us more about that?
Martha: By law, if you wanted to obtain an order of protection, you can get a pro se—which means you don't need a lawyer to get it. If I'm the abused person… I have to walk into the county clerk's office and ask to get an order of protection. The county clerk can only say, "Here's the application—you fill it out, then you go find a judge and try to get a hearing with that judge." How many people would stay? To help the county, we had advocates there when they came in the door to get an order of protection. Our advocates would help them fill out the papers, and they already had times scheduled with judges. Once they got the order of protection, then you have to go to the sheriff's office to have it registered and then have it served. There are a lot of steps. We were kind of the "glue" that made it all happen.
I came up with the business plan to make it all work. So it was a win for the people, and it was a win for us. Not only were we helping them get what they wanted, but we could say, "We have support groups for you to come to; we can set up appointments for you. Do you need shelter? Do you need housing?" We could provide all the resources they might need, or get them in touch with whoever could help them.
What are you most proud of during your time at the Center?
Martha: We were able to expand the shelter building, which was built before my time. That was a $4 million campaign. That was my realization that maybe I had gotten through to people about the issue [of domestic violence and abuse]. When they built the shelter in 1976, they could hardly get anybody to contribute because it was so controversial! In 2000 when we launched the capital campaign to expand, many businesses contributed. We raised that $4 million in two years.
How did you stay positive in the face of so many hurdles?
Martha: I raised a fabulous daughter who gets it. And there are wonderful men who get it. It's hard though; sometimes when you read about different things, it's like we are still these second-class citizens that don't count. I think about people—the women in refugee camps and all the little girls in India being sold or married at eight years old. It's just mind-boggling.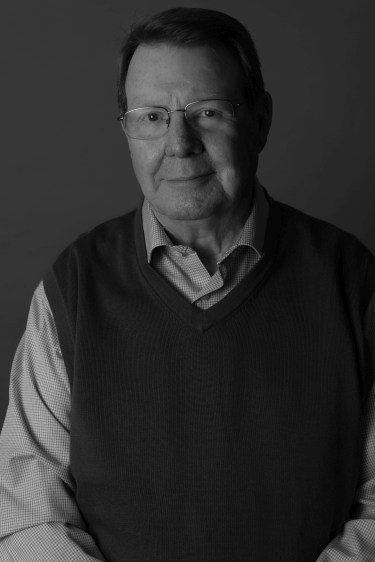 Tom, let's turn to you now. You were born in Bloomington, Illinois, in 1943. What was your childhood like?
Tom: My father was in the service and my mother was working in a dairy store. He came home in 1947. He worked all his life for Farm Supply in McLean County. My mother was a homemaker, which is to say, when farmers called wanting fuel oil—gasoline or whatever—somebody had to be there. This was the era before the answering machine, so my mother spent her days waiting for the phone to ring so she could write [orders] down. It was a tremendous help when I got old enough to write, so she could actually leave the house. I have a brother who is nine years younger, and he is now retired. He was the vice president of Morton Community Bank.
You graduated from Illinois State Normal University in 1965 with a degree in speech and psychology. [When the school was first named, "normal" meant "teaching." That word was later dropped as it broadened its mission.] How did you first become involved in journalism?
Tom: Fortunately, a couple of guys in college convinced the management of the speech department to start a radio station on campus, which became WGLT.
What was your first job after graduation?
Tom: A little radio station had started just down the street from ISU in Normal, and there was a guy there by the name of Tom Brown. He was a wonderful mentor, and I got hired doing the news.
During the Vietnam era, you served two years in the Navy while assigned in Maryland. What happened when you returned home in 1969?
Tom: When I got out, I went back and applied for my old job at WIOK in Normal. I was surprised to find out they were not going to give me my job back, despite a federal law to that effect. I told them they had to, but by that time I had secured another position. That was at WIRL in Peoria. At that time, it was AM, FM and television—Channel 19, the ABC affiliate. I started at WIRL doing mostly radio and very little television.
You left WIRL in 1971 and moved on to WWTO. Then in 1973 you began your 43-year-long career at WEEK-TV. How did that come about?
Tom: I had been tipped off that my job was on the line and about to vanish. I scouted around and there was a job in Lake Charles, Louisiana, for a news director. So I talked to these people, and they said, "We need to see a tape of you, of course, but your qualifications are good because you've worked in a couple places." I put together some stories I'd written, and they seemed to be agreeable.
I then made a blind call over to WEEK and got ahold of Tom Connor, who was the news director. I said I'd like to come in and tape because I got a job offer in Lake Charles, Louisiana, and they want to make sure that I don't have a third eye in the middle of my forehead, that I can speak English and so forth [laughs]. So I went in and got some wire copy, wrote up some scripts, and did a newscast for five or six minutes. When I got done, Tom Connor called me over and said, "Who wrote the scripts?" I said that I did. On my way out, I happened to run into a guy named Roger Ottenbach, who I had gone to college with years before. And he said, "Do you mind if we keep the tape for just a day?" I said, sure. So, I called back the next day and they offered me a job. I never got to Lake Charles.
You quickly moved up the ranks at WEEK-TV, from reporter to co-anchor to anchor. How did that come about?
Tom: I was lucky. Talent may have helped me keep a job, but in some cases it was pure, dumb luck. I happened to be at the right place at the right time. It was a confluence of events that moved me up into co-anchor in a very short amount of time, which normally would not have happened. It happened in a space of four months.
You were a co-anchor with Tom Connor when he died suddenly in 1977 from a heart attack. When did you step up to become anchor?
Tom: That day! He was a very nice man. He was about as honorable a person as I knew, as far as conducting the news and the rules and how you did things. If I ever had a mentor, besides Tom Brown, it was him. Years later, the former WEEK-TV News Director Paul Stuber wrote about Tom's untimely death. He said: "WEEK soldiered on, though. We had another 'Tom' in the wings: Tom McIntyre was a young reporter and co-anchor. My thought was, 'Let's throw Mac out there while we try to figure out what to do next.'"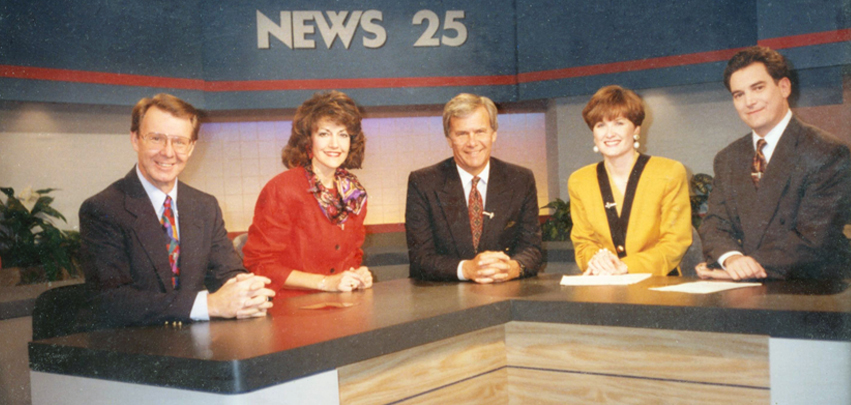 What was it like as you took on more responsibilities?
Tom: There are stories you're always going to cover any given day… There's going to be a government story, a police story, a farm story and a business story. After a while, they become interchangeable. The stories that stand out [involved] getting off the anchor desk and going someplace. One of my chief frustrations was that I couldn't go out and cover stories; I was chained to my desk for the most part. I was the executive producer so I approved everybody's script—which was all fine and dandy, except I never got to go out.
I know it was particularly fulfilling when you traveled to Saudi Arabia with the Peoria Army Reservists prior to the first Gulf War in 1991.
Tom: It was less than two weeks—just enough to get a glimpse of what these men and women were going to go through. What they ended up doing was hauling fuel in the desert to jet planes. This was all leading up to Desert Storm… Operation Desert Shield. It was just amazing to watch something that big take place. The story was about them and what they were doing: here's somebody from your hometown who's now suddenly in the middle of the Saudi Arabian desert. This is what they're doing and what they're waiting for. Here's what they're eating. Here's what their day is like.
You also traveled to Washington, DC to cover the North American Free Trade Agreement. Can you tell us about your interaction with President Clinton?
Tom: Caterpillar had been pushing NAFTA for some time. The idea was Caterpillar was going to use this to create jobs, and goods would be shipped to the U.S. and vice versa, free trade, etc. So that's why we were in Washington: What is this going to mean for Peoria? Is this good? Is this bad?
We got a call from the news director—the other Illinois stations had convinced Clinton to do an interview the next day, and they wanted to know if we wanted to be there. It was essentially the Chicago stations… and they wanted to interview Clinton because Chicago's own Rahm Emanuel was his chief of staff. So we get into the Roosevelt Room the next day and the first question out of somebody's mouth was about Emmanuel. After he gave his answer, it was dead silence because it was the same question they had all been wanting to answer. So I raised my hand and said, "You told those guys on the UAW picket line in Peoria that you were going to use all your power if elected president to pass the anti-striker replacement bill. That hasn't happened. Why? Those guys voted for you."
He said, "I love those guys at the UAW in Peoria, but it just couldn't come together." So we got our story: He loves them, but he can't do anything for them. My problem was all those guys from Chicago… By the time we got home—because we didn't have an editing station scheduled—the news had already been on the satellite and everyone back in Peoria had already [heard] it.
Why do you think documenting and sharing stories through journalism is important?
Tom: I think it's important for people to know something about their history. The more you know about what's around you, the better informed and the better judgments you will presumably make. If I tell you that a kid who grew up in a small town of 1,000 became a world-famous sculptor, you might think to yourself, "By God! I'm a kid who grew up in a town of 1,000. I can become anything I want to be!" That may or may not be true, but at least you've got a [positive] attitude to start with, as opposed to, "I'm never going to be anything. All the famous people grew up in Los Angeles" [laughs].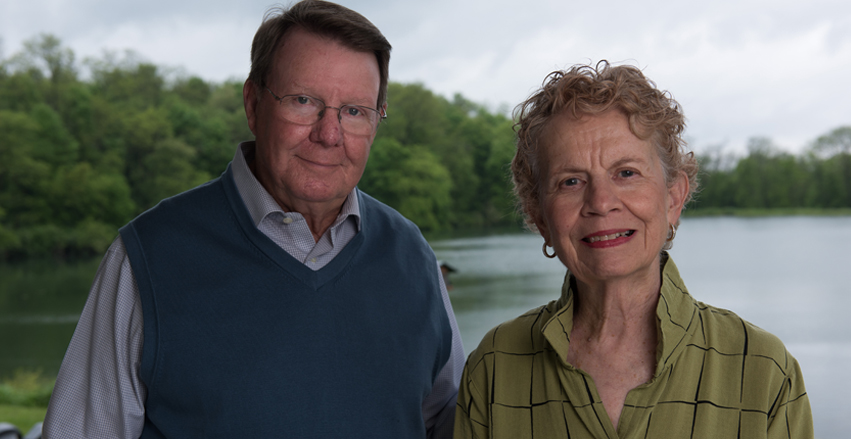 How did the two of you meet?
Tom: WEEK was a sponsor of the Partners in Peace luncheon [a fundraiser for the Center for Prevention of Abuse] at the Civic Center. Every year I was the emcee. I would go to the committee meetings so I could find out what the heck was going on and we would do a story on the whole thing. That's where I met Martha.
I know Martha was friends with your late wife, Mary. Can you tell us how they became friends?
Tom: It was coming up on the Center's 25th anniversary. They needed to get some background [information] and find some old photos and that sort of thing. I said that my wife was one of the founders of WomenStrength, and I'm sure she'd be glad to talk. So I directed her to Martha, and Martha to her. They became acquainted and good friends. My wife died in 2010, and Martha was one of the first people who reached out to me. My wife had been in the hospital for three months, so this was not unexpected. Anyway, she invites me over here—my first visit to this place. [Martha rolls her eyes…]
Martha: He called to tell me Mary had died, and I, of course, expressed my condolences. And I said, "Are you alone today? Is somebody with you?" And he said, "No, I'm just here at the house." I said, "Well, I'm having friends over—why don't you just come out to get away?" That's the more accurate story.
Tom: Mine's funnier with the circumstances. [Laughs].
Martha: I spoke at her funeral and the Center was the memorial agency.
Tom: I invited her out for cheap Chinese food, and we sat there and talked and ate for a couple of hours.
Martha: We got married about a year and a half later.
Tom, what drew you to Martha?
Tom: I found out that she tap dances and plays the ukulele. She also plays the flute, the organ and the piano. I was impressed with all of her travels, but let's just say that Martha's persona has always been this woman who gets up and talks about women being hurt.
I know you are both heavily involved in the Rotary Club of Peoria. Please share a little about that.
Tom: I won't say it's the best thing [Martha] ever did for me, but it is something I'll always be thankful for.
Martha: The cause for the last 25 years has been ending polio. Rotary has worked and raised millions of dollars for immunizations around the world. We don't get as much credit as WHO or UNESCO, but we pay for it.
Tom, when you think of Martha's legacy, how would you describe it?
Tom: She built something… from the ground up. Certainly she created the entity that is the Center today.
Martha, same question. How would you describe Tom's legacy?
Martha: He told the truth for 40 some years. People relied on him. They believed in him—kind of like [CBS anchorman] Walter Cronkite. He provided that kind of stability.
Tom: I've never lacked self-confidence.
Martha: But I have. I almost didn't get hired because the [Center's] board at the time thought, How could I possibly be the executive director and supervise counselors without any counseling experience? Well, it's like a hospital administrator. They are necessarily doctors, but they also have a chief medical officer. That's what I put in place. They changed their minds because they were in kind of a financial bind and they needed somebody to bring organization to the place. I had to learn enough to be able to sound intelligent to go on TV or whatever, give a speech about how it all works, how the mission works. I always felt like I was doing it by the seat of my pants every day, as I had no mentor.
Tom: But you created your destiny daily. PM