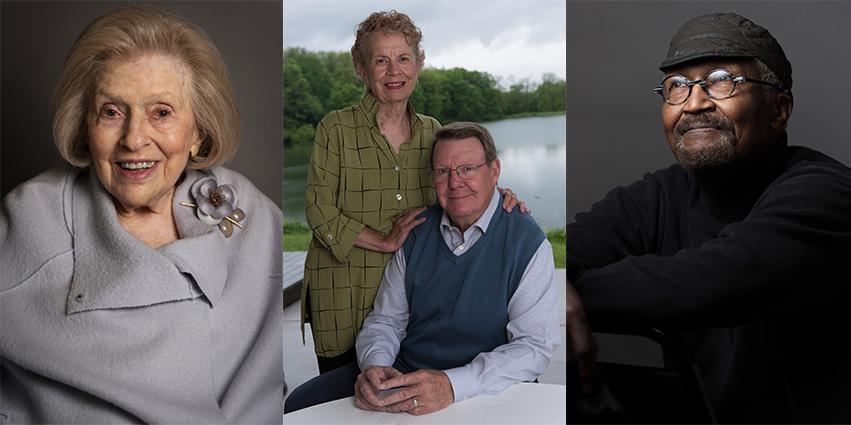 L-R: Esther Cohen, Martha Herm & Tom McIntyre, Preston Jackson. Portraits by David Vernon
Legends come from many places. Esther Cohen grew up on the East Coast before moving to Peoria and embarking on decades of community volunteerism. Preston Jackson was born in Decatur into a family whose lineage stretched back to the Great Migration of African Americans from the South. Martha Herm and Tom McIntyre grew up right here in central Illinois, with family ties to the agricultural economy of the Midwest.
Each made an enduring mark on the Peoria community and beyond. With her cohort of friends from Smith College, Esther Cohen helped create and fund a range of arts and cultural organizations in Peoria. Preston Jackson is an internationally celebrated artist and truth teller, striving to depict "a oneness in the human experience." Martha Herm helped protect thousands of women in need through her advocacy, while Tom McIntyre was a trusted voice in the media for over four decades. They are our Local Legends, and we salute them.
Esther Cohen
Lifetime of Volunteerism
Growing up on the East Coast, she learned the value of community service and the importance of art and culture at a very young age. These lessons stayed with her for life—and she applied them here in Peoria.
Martha Herm & Tom McIntyre
A Trusted and Steady Presence
From her tireless efforts to bring peace and healing to victims of violence and abuse, to his service as a trusted authority on the news of the day, they have been a steadying presence in central Illinois for decades.
Preston Jackson
Artist, Educator, Storyteller
An internationally renowned artist and performer, he confronts social issues boldly and directly, connecting the hard truths of American history to its present and future, anchored by the common thread of humanity.